- FREE -
Paris Expo Porte de Versailles
SATURDAY, SEPTEMBER 2, 2023

WE love : a magical day among sorcerer's apprentices
Age : all public
Where Paris Expo Porte de Versailles (Hall 4)
When Saturday, September 2, 2023
schedule 9 a.m. to 8 p.m.
Rate free admission for "La rentrée des 4 maisons" (back to school for the 4 houses)
The exhibition Harry Potter remains chargeable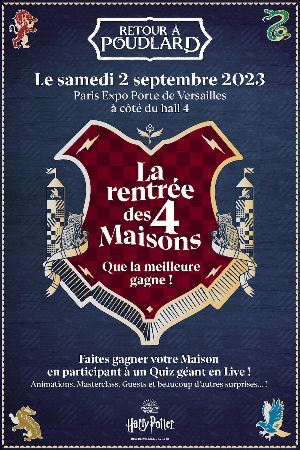 It's back to school at Hogwarts!
It's the first weekend in September! and it's a worldwide celebration of the "Potterheads" gathering, fans of the Harry Potter books and films
On the occasion of the exhibition dedicated to "Harry Potter™: The Exhibition "held at Porte de Versailles until October 15, "...Back to Hogwarts"organizes a mega quiz "La Rentrée des 4 Maisons which will decide the best of the 4 Houses on Saturday, September 2!
For a whole day full of spells the Griffondor, Slytherin, Slytherin and Hufflepuff Houses will test their knowledge, compete against each other or join forces to beat their rivals.
The winners will win numerous prizes from the world of Harry Potter
A great interactive quiz
The community is therefore invited to participate in the "Rentrée des 4 Maisons... May the best win!"
It's a huge Quiz which you must answer correctly to earn maximum points for Hogwarts House.
Simple, interactive questions projected on a large screen and participants will be able to act and respond live from their smartphone
1 Quiz every hour! Updated in real time, the counters of each House will be fed by the points earned by the players.
And at 7 p.m. sharp, the winning Grande Maison will be revealed. ! as well as a draw for players to win prizes (books, collectables, immersive experiences, etc.).
Guests and free entertainment
IThey'll be there! Jany Temine (costume designer), Keylan Blanc (French voice of Harry) and Margaux Laplace (French voice of Ginny Weasley)
there will also be Lego® spaces, of make-up by La Maison Arribasand experts from The Hogwarts Quillthe 100% media dedicated to the magical world of Harry Potter!
We can also make a super photocall to immortalize the 2023 edition back to school at Hogwarts
So... how about another dose of magic?
What to do in Paris in September