In family, from 10/11 years old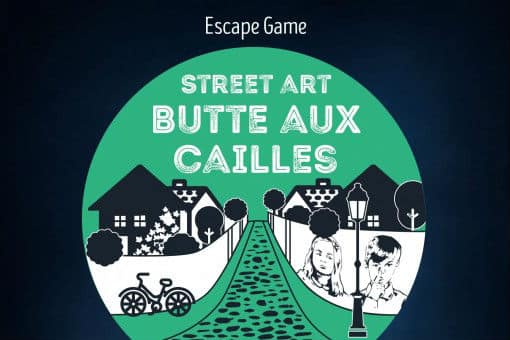 Practical Information & Rates
-10% discount with code FAMILINPROMO
72€ instead of 80 € for a group of 2 to 6 people (regardless of the number of participants)
Duration of the Escape Game: 1h30 (including 15 minutes of presentation)
Course : a part of the 13th arrondissement (Jonas street and the restaurant Chez Gladines, the street Rue de la butte aux cailles, the place de la commune de Paris, the passage of the moulin des prés etc...)
Distance traveled : about 2km
Meeting place : in front of exit n°1 of the Corvisart metro station (line 6)
In family, from 10 /11 years old
The Escape Game "Street Art at the Quail Hut."
This Escape Game takes place in a charming district, quite unknown in Paris, a small village in the city.
La Butte aux Cailles is the countryside in Paris, few cars, houses, small cobbled streets and more amazing Street Art, a lot of Street Art.
The aim of this Escape Game is to make you discover the Butte aux Cailles in a playful and amusing way, by answering questions and puzzles about Street Art and the history of part of the 13th arrondissement.
Objective of the Escape Game: to join the guide in a given time (70mn top chrono).

In order to do so, we will have to solve clues and mysteries related to the history of the Butte-aux-Cailles.

6 people max. per team and the compulsory presence of at least one adult
4 possible courses
For this escape-game, you will have at your disposal:
a map, a tablet and a book
your mobile phone to be reached by your guide if needed
the guide will be able to give you a little help if you are lost or stuck.
A very nice Escape Game
An original Escape Game in a district of Paris that is worth discovering.
It's a very fun outing, outside, ideal for families, there are few cars and it's great with children.
It's very playful, like all Escape Games, with the cultural and historical dimension in addition.
This game develops the sense of orientation and observation
Frequently Asked Questions
What is the ideal age for children? From 10/11 years old
Can we cancel the Escape Game if we have an impediment? You will find the conditions of cancellation on the site of our partner (click on BOOK)
Can children do it alone? No, the presence of one adult per group is mandatory if the other participants are minors
THE OTHER ESCAPE GAMES IN OUTDOOR FAMILY