"Trattoria en Seine" on board the barge "Le Théo
Italian musical atmosphere throughout your cruise
An Italian Dinner on the Seine with the only trattoria navigating on the Seine. It is a great success! This restaurant cruise is ideal for families to make discover Paris in the evening to the children, while tasting an Italian dinner of quality! Very friendly, it is also really nice to hang out with friends or for a romantic dinner..
We like this formula of a excellent value for money.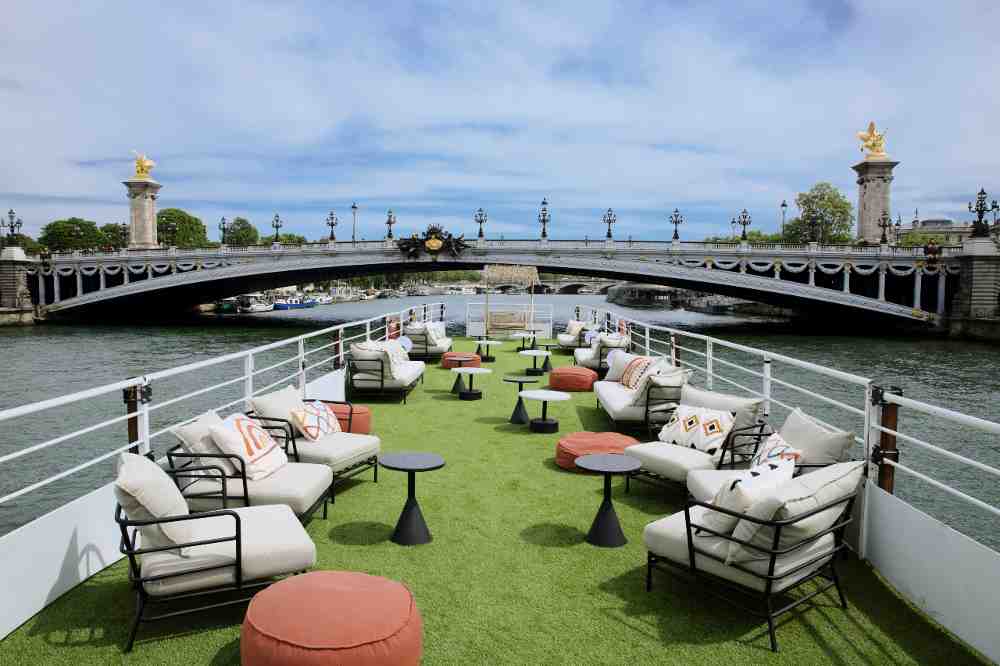 "ITALIAN LUNCH OR DINNER", A 1H45 CRUISE IN A RELAXED ATMOSPHERE.
Discover Paris from the Seine while tasting a very good Italian meal is the successful wager of this catering cruise
A fully panoramic boat (with a warm and relaxed decor) for admire the most beautiful monuments of Paris : the Eiffel Tower, Notre-Dame, the Grand-Palais, the Conciergerie, the Orsay Museum, the Town Hall...
On the plate, for Italian lunch or dinner, an Italian menu with a tray of antipasti as a starter (very good) followed by a main course (pizza or meat or fish). And we finish with a tiramisu
The pizzas are prepared on board. They were designed by the chef... Ludovic Bicchierai, best pizza chef in the world 2016 at the Palermo contest
Drinks are not included in the dinner menu and there is no water in carafe (not possible on the boat). You have to take your drinks in addition
OUR OPINION ON THE "ITALIAN DINNER" CRUISE ON THE SEINE RIVER
We liked the joyful atmosphere and relaxed with a caring staff
This cruise has all the ingredients for those who are looking for a casual dinner cruise with great value for money (we really enjoyed ourselves)
It lasts an hour and 45 minutes, which is very good timing with kids.... we have time to enjoy the meal and enjoy the exceptional course of this cruise on the Seine
The Italian theme is perfect for families and works well with children and teenagers.