Exhibition at the Museum of Man
WE love : une exposition immersive et interactive
Age : From 10 years old
Duration: jusqu'au 3 juin 2019
Location: Museum of Man (Paris 16th)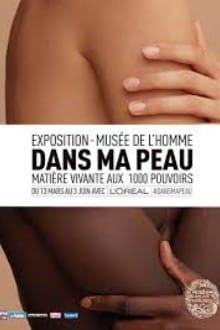 In my skin, the expo on the largest organ of the human body
Enveloppe de vie et d'identité, marqueur du temps et de l'environnement, la peau est notre plus grand organe, deux fois plus lourd que notre cerveau.
The Musée de l'Homme, in association with L'Oréal researchers, proposes a voyage immersif, mêlant expériences sensorielles, projections et dispositifs inédits. Attention , c'est assez technique. Nous déconseillons l'exposition sans visite guidée pour les moins de 10 ans.
L'objectif est de montrer la complexité qui se cache dans notre enveloppe au travers d'un voyage qui vous mènera dans les structures successives de la peau : la couche cornée, l'épiderme, le derme, l'hypoderme. Vous rencontrerez des poils, des vaisseaux, des fibres collagènes …
Des dispositifs originaux montrent les différents aléas que la peau subit quotidiennement. Le temps qui passe, la migration des cellules vers la surface où elles meurent au bout de trente jours. Le passage des ans sur les visages.
Comment notre peau résiste-t-elle à l'eau qui lui passe dessus tous les ­matins sous la douche ? Aux variations de températures qui nous ­assaillent ? Au froid qui nous dessèche et surtout, au soleil, ­l'ennemi public numéro 1. Que font ces millions de bactéries à la surface de notre peau ?
Pour finir ce parcours, vous découvrirez le piercing à travers les âges et les cultures. Encore une toute autre histoire et un autre voyage.
Flash animations specially for children:
Cette exposition est difficile pour les enfants de moins de 10 ans. Le musée de l'Homme propose quelques animations pour les plus jeunes:
FLASH ANIMATION: I HAVE YOU IN THE SKIN! :
Animations pour mieux comprendre des notions complexes à partir d'expérimentations ludiques et concrètes.
Starting from 7 years old
Free for visitors with a ticket
Duration: 20 minutes
les samedis et dimanches à 14h30 ; les jeudis, vendredis, samedis et dimanches à 14 h 30 pendant les vacances scolaires du 6 avril au 5 mai 2019