An unusual walk in Paris
A Parisian heritage to discover absolutely!
In the 1st, 2nd and 9th districts of Paris
How many covered passages are there in Paris? 21 covered passages are open to the public. When it is chilly or that it rainsIt is a place of refuge in Paris. An original and unusual walk under cover! Attention, some covered passages are closed on Sundays. They sheltered shops in the 19th century for wealthy families. They can be found on the right bank of Paris, mainly on the Grands-Boulevards side but also in the Montorgueil district with the passage of the Grand Cerf (one of our favorite passages).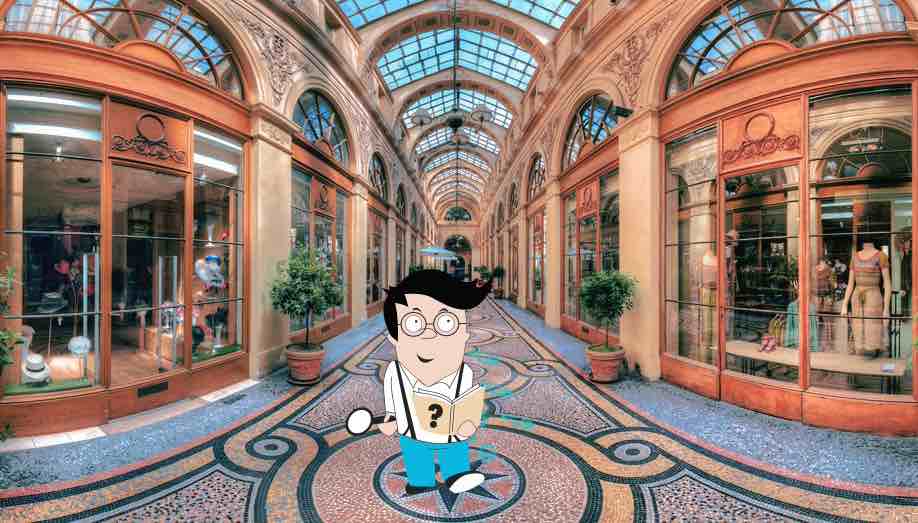 5 (unusual) ways to discover the covered passages
Our suggestion for a walking tour of the covered passages (in 9 steps)
1 - The Véro-Dodat Gallery (75001)
It's a covered gallery located near the Louvre. It is a small gallery very elegant and chic, which houses the famous Louboutin shoes brand.
Open from 7h to 22h (closed on Sundays and public holidays)
Between 19 rue Jean-Jacques-Rousseau and rue du Bouloi
2 - The passage of the Grand-Cerf (75002)
This is one of our favorite passages. It is one of the highest Parisian galleries overhung with a magnificent glass roof
It is located close to Montorgueil, a lively district
It is open from 8:30 to 20:30 (closed on Sunday)
Access to the passage between 145 rue Saint-Denis and rue Dussoubs
We like: the "Rickshaw" store
3 - The Vivienne Gallery (75002))
This Parisian gallery is probably one of the most beautiful covered gallery in Paris (completely renovated).
Open daily from 8.30 am to 8.30 pm
Access to the gallery between rue des Petits-Champs and 6, rue Vivienne
We like : the store " Si tu veux jouer ", a real institution in this district
4 - The Colbert Gallery (75002)
Open every day without interruption
Between 2, rue Vivienne and rue des Petits-Champs
5 - The passage of the Panoramas (75009)
One of the oldest passages, with old-fashioned charm
Open daily from 6am to midnight
Between Saint-Marc Street and Montmartre Boulevard
6 - The passage Jouffroy (75009)
Open every day from 7h to 21h30
Between rue Montmartre and rue de la Grande Batelière
7 - The passage Verdeau (75009)
Open Monday to Friday from 7.30 am to 9 pm and weekends from 7.30 am to 8.30 pm
Between rue de la Grande Bateliere and rue du Faubourg Montmartre
8 - The passage of the Princes (75002)
Open daily from 7am to 10pm, closed on Sunday
Between Richelieu Street and Boulevard des Italiens
9 - The passage Choiseul (75002)
Open Monday to Saturday from 8h to 21h and Sunday from 8h to 21h
Between rue Saint-Augustin and rue des Petits-Champs
5 cool things to do in the 9th and 10th