GAME COMPETITION COMPLETED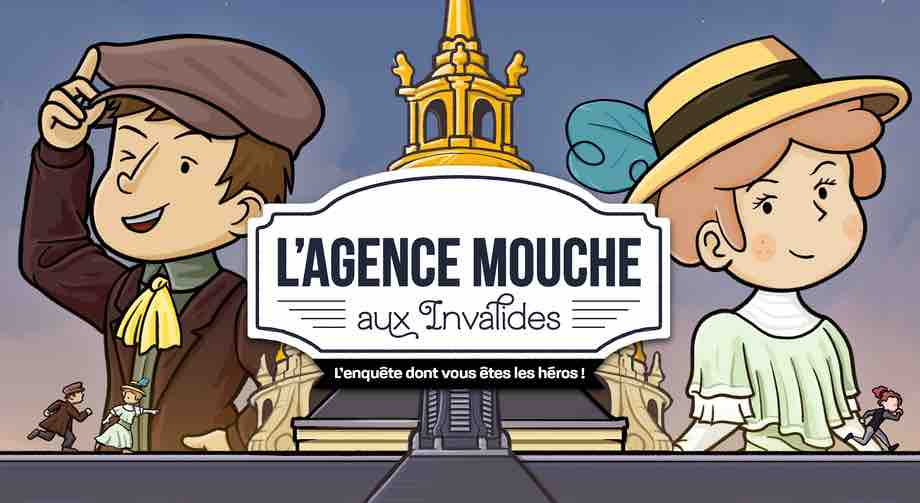 TO WIN
10 invitations pour un jeu-enquête au musée de l'Armée (dès 5 ans)
PITCH DU JEU "L'AGENCE MOUCHE AUX INVALIDES"
Une enquête palpitante inspirée du livre audio* écrit par Claudine Aubrun. Plongez en 1905 dans un décor surprenant en plein cœur des Invalides ! A la veille de l'inauguration du tout nouveau Army museum ; son premier directeur le Général Niox vous attend dans la Salle Turenne pour vous transmettre ses instructions. Partez en quête des objets de nos collections, récoltez les cryptogrammes dissimulés et soyez stratégique ! Muni de votre carnet d'enquêteurs, décidez de votre propre parcours. Have an adventure with your family and accomplish your mission!
When? Du 17 au 31 décembre 2022
Where? At the Musée des Invalides
For who ? From 5 years old
To try your luck,
fill out the questionnaire below,
before midnight on December 18, 2022.
🍀 Good luck to all 🍀
RULES OF THE COMPETITION
Le jeu consiste en un tirage au sort des participants. Les inscriptions au tirage au sort sont ouvertes du 17 au 18 décembre 2022 à minuit. Pour s'inscrire au tirage au sort, les participants doivent répondre au questionnaire et le valider. Un tirage au sort désignera 10 gagnants. Un lot = 2 invitations pour le jeu-enquête "L'Agence Mouche aux Invalides" à utiliser avant le 31 décembre 2022. L'identité des participants ne sera divulguée à aucun moment. Tirage au sort le 19 décembre 2022. Les prix ne peuvent faire l'objet d'un remboursement en espèces ou d'une contrepartie quelle qu'elle soit. Les gagnants seront informés par e-mail le 19 décembre 2022.
---
What to do at Christmas with your family?