WE love : sa poésie et sa virtuosité. Attention : ultime spectacle
Age : for all, from 5 years old
Duration: From September 26 to December 30
Location: Espace Chapiteaux, Parc de la Villette (Paris 19ème)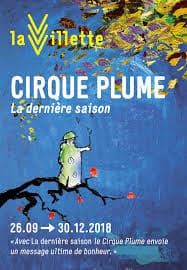 The Circus Plume presents its farewell show: The Last Season
On the program of last show of Cirque Plume vous trouverez : parapluies, ombres chinoises, la lune, jeux de couleurs… Voilà pour le decor. For the spectacular : fil, cerceau aérien, mât chinois, acrobatie au sol, contorsion… 14 artistes, musiciens, danseurs, personnages burlesques, mi-hommes, mi-animaux entrainent les spectateurs dans la poésie colorée des saisons. "La Dernière saison" nous emmène dans l'univers magique des forêts. Réflexion sur la nature, les saisons et la planète en danger, mais surtout spectacle poétique, humoristique et virtuose. Un spectacle d'1h50.
Cirque Plume, one of the pioneers of the new circus
Since 1984, the Circus Plume revolutionizes the art of circus. Sa patte, sa signature : la musique omniprésente, le rythme, les couleurs et toujours la poésie. Le Cirque Plume, c'est toute une atmosphère, avec ses artistes de tous âges, ses musiques jazz sur lesquelles lévitent les acrobates, ses décors oniriques avec chute de plumes comme des flocons de neige. Aujourd'hui son fondateur approche des 70 ans et veut give way to young people. Transmission is assured, for our greatest pleasure, le nouveau cirque est devenu un art à part entière.