- A FAMILY VISIT IN VIP MODE -
Starting from 7 years old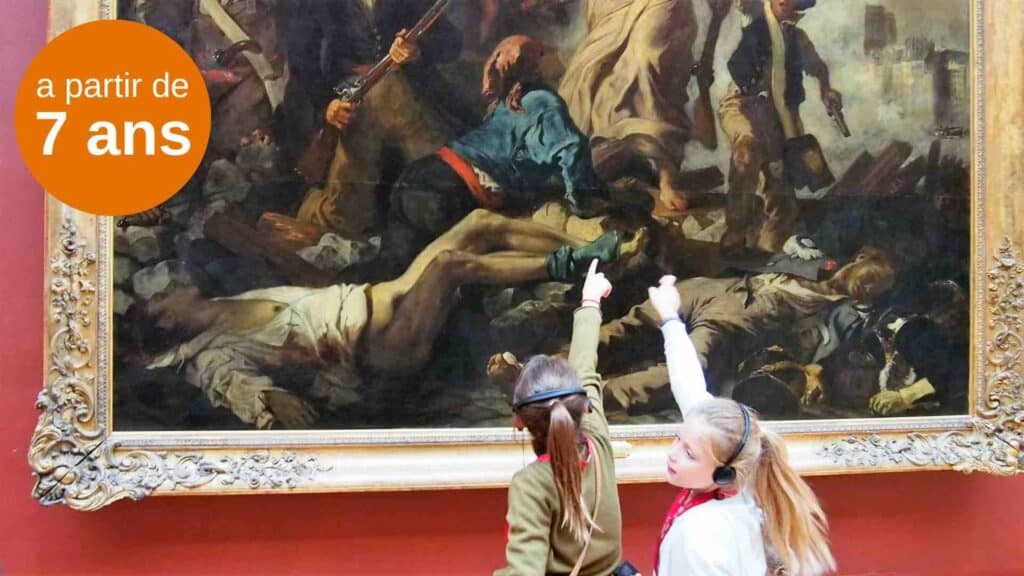 Before booking, please check that there are enough places available for the session as a whole.. If only one place remains, it can only be reserved for an additional adult OR child joining a family already registered.
⚠️ Unless otherwise specified for certain ADOS tours, we accept NO single children.
An almost private visit to the Louvre!
A visit in VIP mode You're in a very small group, with a maximum of 6 people (adults and children). The experience of a quasi-private visit with a tour guide specializing in young visitors.
The Mona Lisa, Liberty Guiding the People, the Rite of Napoleon, the Victory of Samothrace, the Venus de Milo...

Children discover the must-see works in the Louvre. They will learn identify historical elements and amusing or unusual details in a painting.

The guide will help them to understanding the painter's message or whoever commissioned the work.

The aim of this visit is to raise children's awareness of art, showing them the major works in one of the world's most beautiful museums, from develop their sense of observation. To whet their curiosity and answer children's questions, such as "What if the Venus de Milo wasn't really Venus?
Rates and information for scheduled visits
6 people max.
duration : 1h30
Meeting place : Richelieu passage under the arcades outside (do not enter the museum)
This visit is animated by guide-lecturers
An adult seat is necessarily associated with a child seat.
Visit in French
Privatization
Who is it for? : school, extra-curricular, birthday, family privatization...
Rate From 250 euros per visit
Increase of 20% on Sundays and holidays
Number 25 people max (adults and/or children)
Visit in French or English
For schoolchildren: from the first grade / primary school
Find the list of our reviews
- SU
Written by Anne Wurtz, on 25-07-2023
This guided tour was of the highest quality Not only was the guide very, very pleasant, she was also extremely professional throughout the visit. The children really enjoyed it I highly recommend LUDO&SOPHIE and encourage them to continue. Thank you and bravo
Family visits in museums
Unusual outdoor family visits
What to do in the Louvre district?