- FUN TOUR FOR YOUNG PEOPLE -
For 8 to 14 year olds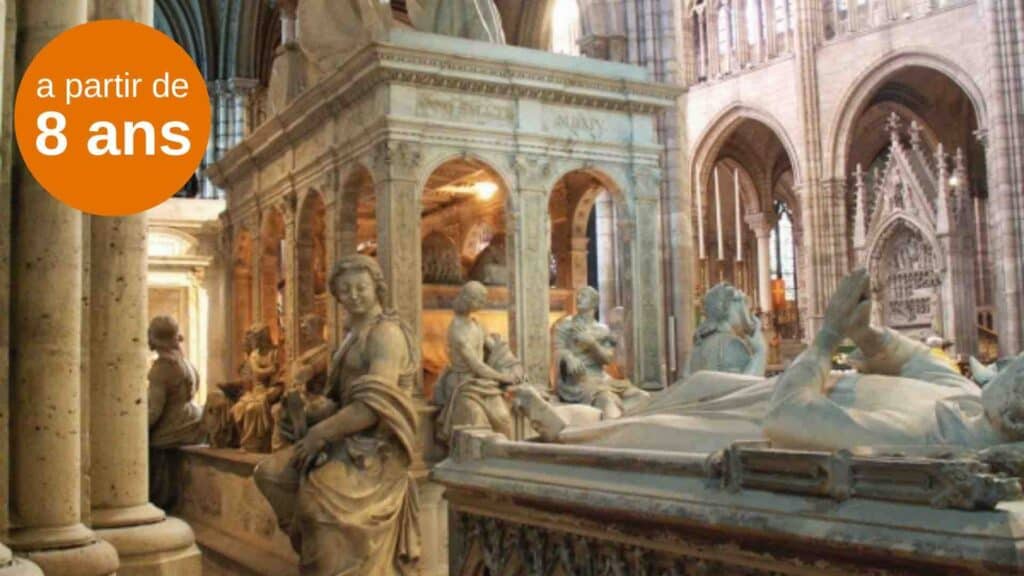 Before booking, please check that there are enough places available for the session as a whole.. If only one place remains, it can only be reserved for an additional adult OR child joining a family already registered.
⚠️ Unless otherwise specified for certain ADOS tours, we accept NO single children.
The "Jewels of the Saint-Denis Basilica" guided tour
Older than Notre-Dame, there are... the basilica of Saint-Denis, an architectural and historical marvel. A masterpiece of Gothic art, the basilica houses the tombs of 43 kings and 32 queens!
During this guided family tour, children will discover, first of all, the principle of gothic constructions. Why so high? And how does it all fit? And why colored stained glass ? Explanation of the cross-ribs, the buttresses, demonstration in support...
The other theme of the visit is about the choice of this basilica for last residence of the kings of France. Why in Saint-Denis? Why, the body parts of the kings are sometimes "scattered like a puzzle" here but also elsewhere in France or abroad? What is the difference between a recumbent, a praying and a transit?
This guided tour of the Saint Denis basilica is punctuated by little disgusting stories, like the terrible story of Saint-Denis and many other small stories and rituals of the time sometimes very morbids... ... so that culture becomes child's play.
A fascinating visit with Saint-Denis, Dagobert, Saint-Louis, Catherine de Médicis, Henri IV, Louis XVII...
A playful guided tour adapted to children from 8 years old.
Rates and information for scheduled visits
20 to 22 participants maximum per visit
duration : 1h30
Meeting place at the Saint-Denis Basilica
This visit is animated by guide-lecturers
An adult seat is necessarily associated with a child seat.
Visit in French
Privatization
Who is it for? : school, extra-curricular, birthday, family privatization...
Rate From 250 euros per visit
Increase of 20% on Sundays and holidays
Number 25 people max (adults and/or children)
Visit in French or English
For schoolchildren: from the first grade / primary school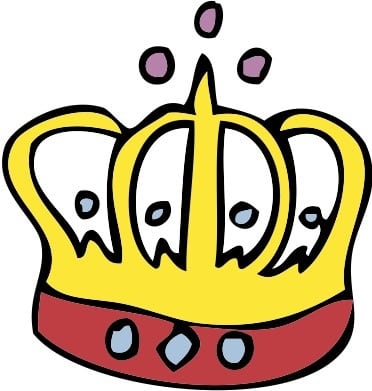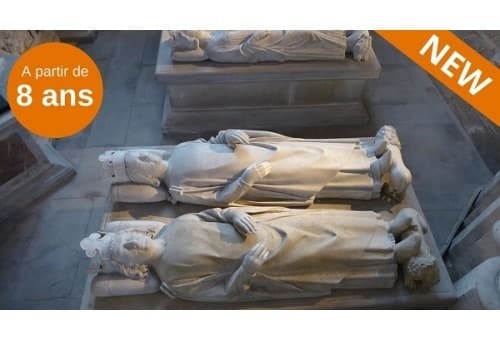 Find the list of our reviews
- E
Written by Alexandre Messerli, on 17-11-2023
An excellent guide, very suitable for younger children. We felt her passion for the subject presented. Top! 😉
- Great guide
Written by Myriam CHARCHARLESLES, 28-10-2023
Tour easily booked for 3 adults and a 13-year-old child. The guide was great. Very pleasant, educational and competent. Very good historian.
- Super guide, very nice and great explanations
Written by marie-aline VIAL, 26-10-2023
Yes, no problem
–
Written by Tour626014, on 04-12-2022
A fascinating tour of the Cathedral/Basilica of Saint Denis, adapted to a young audience. Marie, our excellent guide, did an excellent job of involving the children while telling them about the history of the site.