Guided family tour of the Saint-Denis basilica for children aged 8 to 14
This visit is led by guides specialized in young people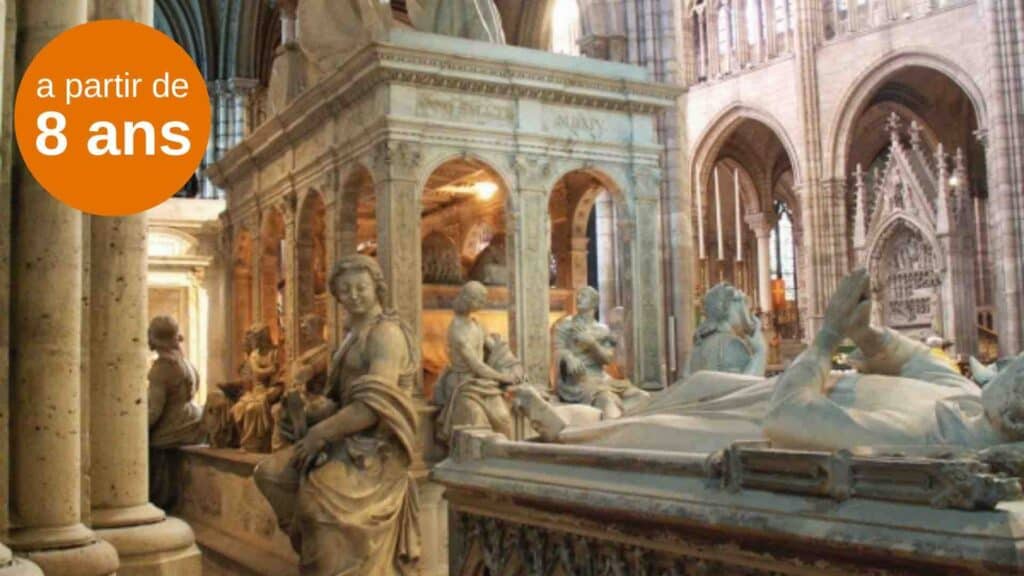 Pitch of the guided tour "The jewels of the Saint-Denis basilica
Older than Notre-Dame, there are... the basilica of Saint-Denis, a historical and architectural marvel. A masterpiece of Gothic art, the basilica hosts thehe graves of 43 kings and 32 queens!
During this guided family tour, children will discover, first of all, the principle of gothic constructions. Why so high? And how does it all fit? And why colored stained glass ? Explanation of the cross-ribs, the buttresses, demonstration in support...
The other theme of the visit is about the choice of this basilica for last residence of the kings of France. Why in Saint-Denis? Why, the body parts of the kings are sometimes "scattered like a puzzle" here but also elsewhere in France or abroad? What is the difference between a recumbent, a praying and a transit?
This guided tour of the Saint Denis basilica is punctuated by little disgusting stories, like the terrible story of Saint-Denis and many other small stories and rituals of the time sometimes very morbids... ... so that culture becomes child's play.
A fascinating visit with Saint-Denis, Dagobert, Saint-Louis, Catherine de Médicis, Henri IV, Louis XVII...
A playful guided tour adapted to children from 8 years old.
Individual visit of the Saint-Denis basilica (rates and info)
Adult rate : 22€ (including admission to the basilica)
Child rate : 14€ (admission to the basilica is free for children)
20 to 22 participants maximum per visit
Duration of the visit : 1h30
Visit in French
No waiting tickets (no waiting)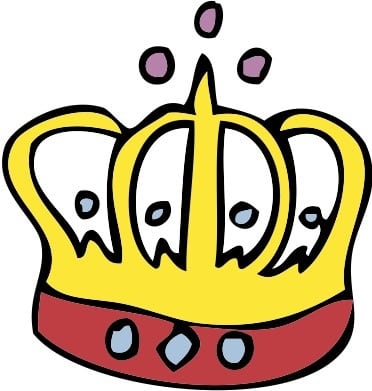 Private visit (rates and info)
♡ Nice to book for several families (more reasonable budget).
Rate (up to 6 people) : 180 €
Additional 20% if the visit takes place on a Sunday or a holiday
Duration of the visit : 1h30
Visit in French, English, Spanish
No waiting tickets (no waiting)
For schools or youth centres
From 180 € per visit / class or group + free admission for 2 teachers
Reservation fee of 30 euros (up to 35 students).
School for classes from CP to 6ème
Leisure centre, youth association, town hall for children from 8 to 14 years old
Activity booklet provided in PDF format (or printed for each child at an additional cost)
Payment in good standing is accepted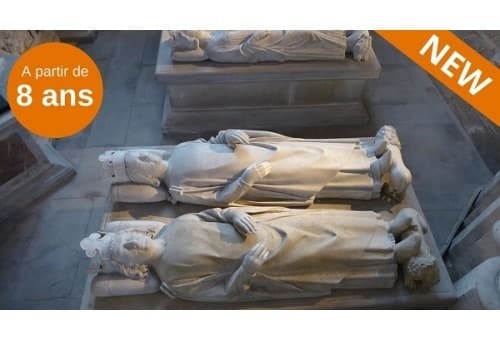 Find the list of our reviews
–
Written by Tour626014, on 04-12-2022
A visit of the Cathedral/Basilica of Saint Denis, adapted to the young public. Marie, our excellent guide, knew very well how to make the children participate while telling them the history of the place