Storytelling visit to the Louvre for children aged 6 to 10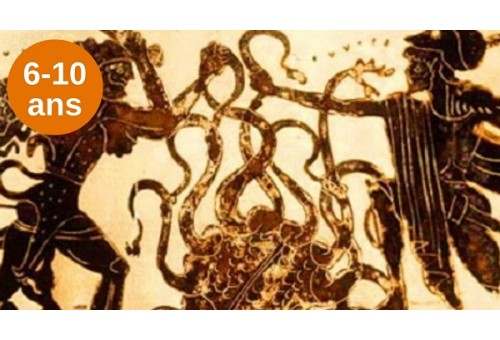 Before booking, please check that there are enough places available for the session as a whole.. If only one place remains, it can only be reserved for an additional adult OR child joining a family already registered.
⚠️ Unless otherwise specified for certain ADOS tours, we accept NO single children.
The "Monsters and heroes of mythology" tour
Monsters, heroes and fantastic creatures... A guided tour of the Louvre's major works inspired by mythology.
The objective of this guided and storytelling tour at the Louvre museum is to show to children, in a playful wayhow Greek and Mesopotamian mythologies have inspired artists to major works.
What could be more fascinating for children than bulls with human heads, roaring lions, snakes and demons fighting with brave warriors!
This storytelling tour of the Louvre Museum is punctuated by little games, investigations and riddles... so that culture becomes child's play.
This visit tells the story of the exploits of the gods of ancient mythology.. Children will discover Medusa the Gorgon in battle with Perseus, the Minotaur, Gilgamesh, the 12 labours of Hercules, or Cerberus the three-headed dog of the Underworld...
Rates and information for scheduled visits
20 to 22 participants maximum per visit
duration : 1h30
Meeting place : Richelieu passage under the arcades outside (do not enter the museum)
This visit is animated by guide-lecturers
An adult seat is necessarily associated with a child seat.
Visit in French
Privatization
Who is it for? : school, extra-curricular, birthday, family privatization...
Rate From 250 euros per visit
Increase of 20% on Sundays and holidays
Number 25 people max (adults and/or children)
Visit in French or English
For schoolchildren: from the first grade / primary school
Other family visits in museums
And also, unusual outdoor visits...
And about the Street Art visits...