Storytelling tour of the Louvre for children aged 6 to 10
This visit is led by guides specialized in Mythology and Antiquity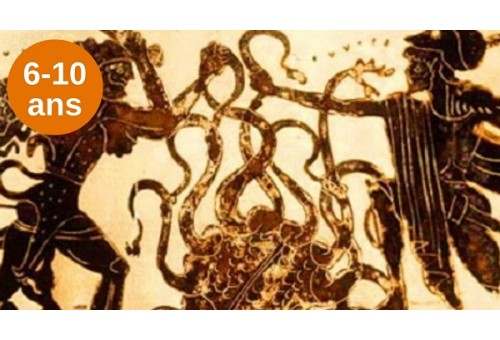 Pitch of the visit "Monsters and heroes of mythology?
Monsters, heroes and fantastic creatures? A guided tour of the Louvre's major works inspired by mythology.
The objective of this Guided tour and storytelling at the Louvre Museum is to show to children, in a playful wayhow Greek and Mesopotamian mythologies have inspired artists to major works.
What could be more fascinating for children than bulls with human heads, roaring lions, snakes and demons fighting with brave warriors!
This guided tour of the Louvre is punctuated with games, investigations and riddles? so that culture becomes a child's play.
This visit tells the story of the exploits of the gods of ancient mythology. The children discover Medusa the Gorgon in battle with Perseus, the Minotaur, Gilgamesh, the 12 labours of Hercules, or Cerberus the three-headed dog of the Underworld?
Individual visit "Monsters and heroes of Mythology" (rates and info)
Adult rate : 38,99* (including admission to the Louvre Museum)
Child rate : 20? (entrance to the museum is free for children)
20 to 22 participants maximum per visit
Duration of the visit : 1h30
Meeting place : Richelieu passage under the arcades outside (do not enter the museum)
Visit in French
No waiting for tickets
* If you are exempt from paying admission to the Louvre (Friends of the Louvre card or other), choose a child's ticket and indicate on the form the age of the child, "Exempt adult" and the type of exemption.
For schools or youth centres
From 180 ? the visit / class or group + admission ticket for accompanying adults (free for teachers)
Free admission for schools / additional fee for associations
School for classes from 1st to 6th grade
Leisure centre, youth association, town hall for children from 6 to 10 years old
Activity booklet provided in PDF format (or printed for each child at an additional cost)
Payments in administrative vouchers are accepted
Other family visits in museums
And also, unusual outdoor visits...
And about the Street Art visits...