With children from 10 years old
Outdoors
All our escape games in outdoor work in the same way (price, duration, game principle).
Only the neighborhood and age requirements differ depending on the formula chosen.
These Escape Games are our #1 outdoor family activity!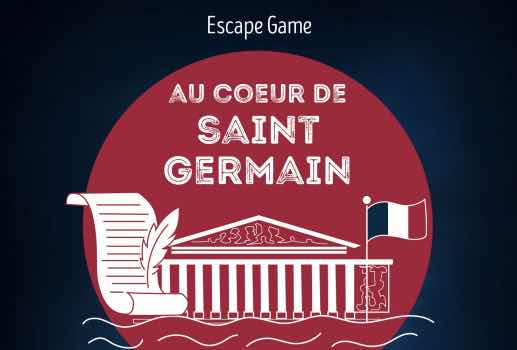 "In the heart of Saint-Germain
Objective of the game: solve puzzles with your team to reach the guide as quickly as possible
This game will make you discover the history of this old Parisian suburb its private mansionsits churches, the home of a well-known singerits museums, a taxidermist…
This Escape Game has been designed for adults and young people over 10 years old
This is a very fun outing. But you'll have to use your brains, your sense of observation and orientation and your logic.
You have a map, a tablet, a book
WARNING (notice to small cheaters): your mobile will not be of any use to you to solve the puzzles (too fastoche). You will not find the answers to the riddles, they are much too subtle for Google ...
Tarifs and information
-10% with code FAMILINPROMO
72€ instead of 80 € for a group of 2 to 6 people (regardless of the number of participants)
Duration of the Escape Game 1h30 (including 15mn presentation)
Distance travelled : about 2km
max. 6 persons per team and the mandatory presence of at least one adult
Meeting place Metro Rue du Bac (Escalator exit)
4 routes proposed in the neighborhood
For all audiences, with friends, with family (from 10 years old)
WE LOVE
It's a fun outing, like all Escape Games, with the added bonus of a cultural dimension. This game develops the sense of orientation and observation
We keep the children away from their screens!
We discover differently this district where we go more often for shopping, lunch or dinner
It is a very entertaining outing, outside, ideal for families when it's sunny
FAQ
Birthdays, privatizations, rallies, schools
For the birthday of your If you are a child, you book this Escape Game (you can form several teams of 6 players max.).
For schools (middle and high school level), leisure centers, associations, IT'S HERE
---
---
Also nice in the neighborhood...