The Birthday of Capucine
WE LOVE : a musical awakening for the little ones
AGE : from 1 to 6 years old
DATE: Until April 22, 2023
DURATION: 40 minutes
LOCATION: at the Comédie de Paris (Paris 9e)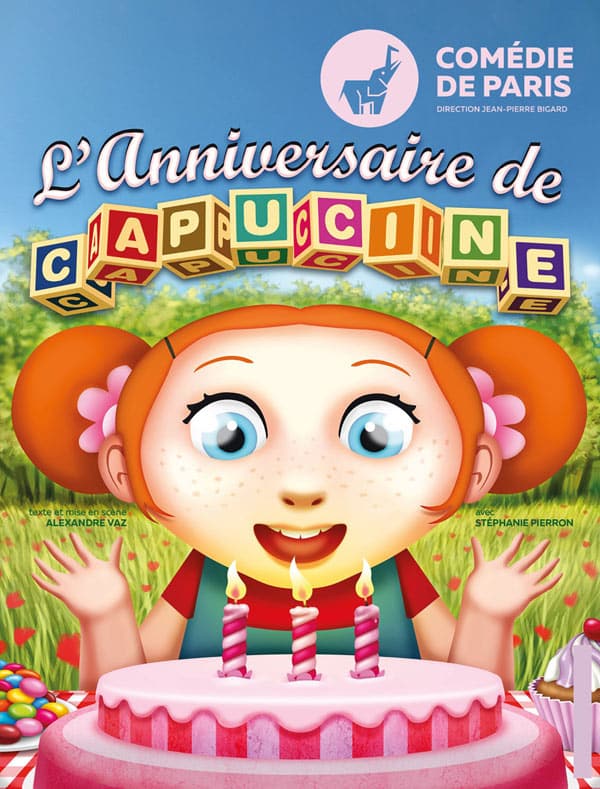 "The Birthday of Capucine", the show nursery rhymes for toddlers
"The Anniversary of Capucine" is a 40-minute show, musical, family, cheerful and rhythmic quite suitable for little ones.
After the success ofCapucine Nursery Rhymes ", this new show is built with the same alternation of stories and songs.
Today, Capucine at 3, but his mother warned him: no party before nap!
So Capucine falls asleep, and dreams of her birthday party with her friends, her cake with her 3 candles ... Ah yes but the candles, where did she put them? If Capucine does not remember, she can happily rely on her friends the snail, the hedgehog, or the spider Gypsie to help find them ...
In "The Birthday of Capucine", each animal, object or place (boat, bridge, mill) introduces traditional rhymes, songs and refrains (Small Snail, On the bridge of Avignon, Boat on the water ...) that all -small love to accompany singing or gestures because often they have learned at the nursery and school.
Go in search of Capucine's birthday candles stolen by the ferret...
An adorable musical show for very young audiences, ideal up to 5 years
"The Birthday of Capucine", 2nd part of the trilogy of nursery rhymes created by the company "Dans les Décors"
Since 1998, the theatre company "Dans les décors" has been staging shows specially designed for young children.
In particular, it has created a trilogy of shows very successful rhymes around the character of Capucine.

Toddlers, from 1 year, take a lot of fun to find the rhymes they know (Small Snail, On the bridge of Avignon, boat on the water

My little rabbit, Small fish in the water, A green mouse, In the moonlight, Colchic in the meadows

...).
They participate in shows in which nursery rhymes are brought by simple stories accompanied by a colorful decor and animals or fancy objects.

The first show "The Capucine Nursery Rhymes"Was followed by" The Anniversary of Capucine "and more recently"The Capucine Holidays". These three shows are regularly performed at the Comédie Theater in Paris.
The trilogy of Capucine is performed by the actress Stéphanie Pierron. She was also Lady Marianne in Robin Hood, Isabelle and the Bohemian in The Pirate Treasure and Coquinette in Puss in Boots.