For children from 7 to 11 years old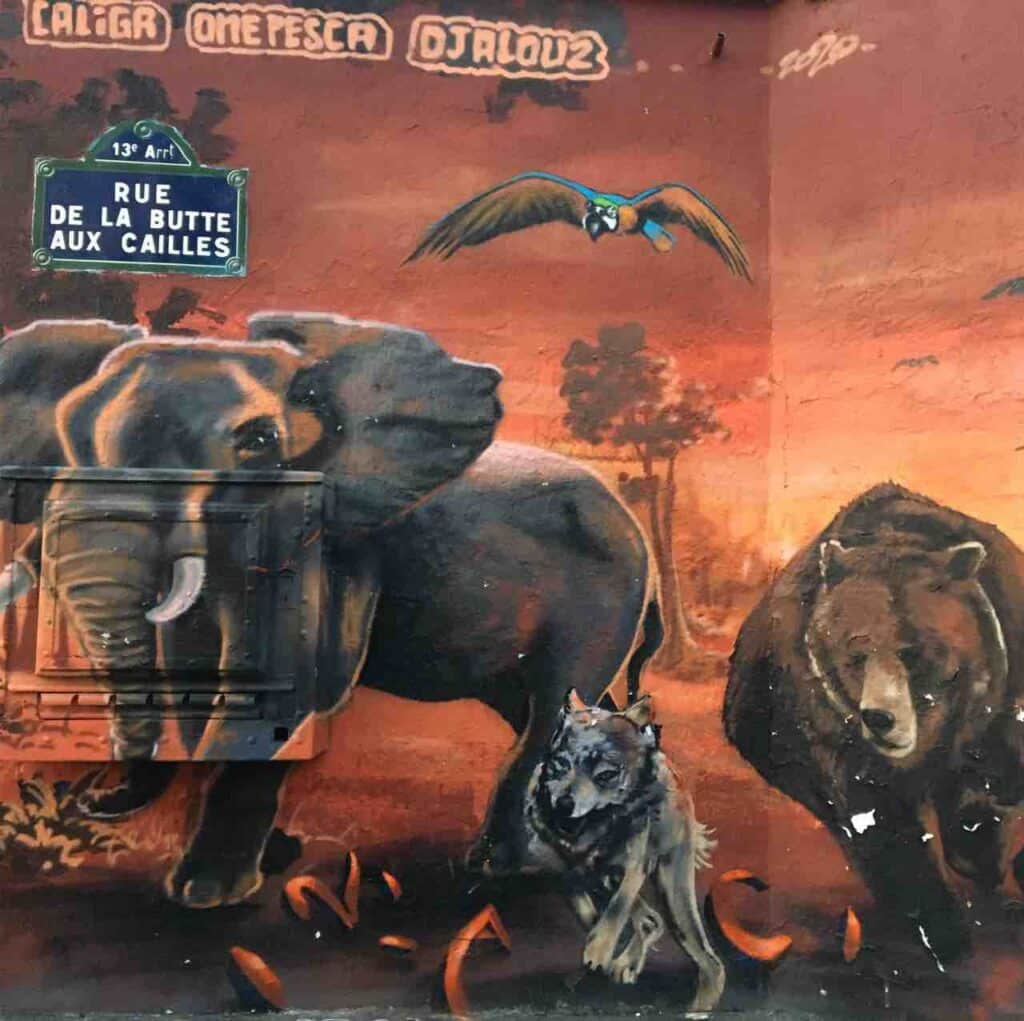 THE TREASURE HUNT
But who is this artist who is rampant at the Butte aux Cailles? Who is this mysterious Street Artist who asks us to participate in his work? The children will have to go through a part of the 13th district, to be careful and attentive in order to reach the end of this mission...
The guide was contacted by a mysterious street artist. Although world famous, nobody knows his real identity. He always works incognito and asks others to install his works in the street. The children's mission: find his work and install it. It's a thrilling treasure hunt during which the children will discover the mysteries of this artist while having fun. A real team work with this game that goes develop their sense of direction, logical and of observation.
For an hour and a half, from signs found on a statue, from a label hidden under a bench, from a clue given by the facilitatorthe children will have to think, use their wits, and move on to the next step
They're going to solve riddles and each correct answer will allow them to advance on the course until the final goal, to find the work of this mystery artist
They'll leave with a little trophy at the end of the game...
Parents can be present but beware (!!) forbidden to burn the children's blanket!
It is a very popular area for parents quiet area with few cars
PRICES
(same price as direct)
Formula S : 150€ (up to 8 children)
Formula M : 1900€ (up to 10 children)
Formula L : 230€ (up to 12 children)
the snack is not included in this formula
---
USEFUL INFORMATION
Age for children from 7 to 11 years old
Number of children S formula (up to 8), M formula (up to 10), L formula (up to 12)
When Wednesday, Saturday and Sunday /
The place in the Butte-aux-Cailles district (13th)
Meeting place Place d'Italie (in front of the entrance to the Italie 2 shopping center)
duration : 1h30
Weather : the treasure hunt is maintained in case of rain (this will be the time to take out the rubber boots and umbrellas)
Held at Good shoes and don't forget a small bottle of water, hat and glasses if the weather is very nice
Find the list of our reviews
- Formidable street art-themed birthday party
Written by Adeline Lemaire, 14-05-2023
4th experience with C14, as successful as ever. The right mix of culture, fun and suspense, all perfectly adapted to the children's ages. Highly recommended!
- Discovering Street Art in the Butte-aux-Cailles
Written by MARC O., on 21-03-2023
An immersive investigation at the Butte-Aux-Cailles on the traces of Street Art: the children had a lot of fun and recommend the walk!
- Very successful
Written by Aurélia MAROTTE, on 18-03-2023
Great moment for a team of 8 boys of 10 years old. Top notch facilitator, very interactive, the boys were captivated and loved the final workshop. Adults can follow from afar and also make great discoveries. I absolutely recommend it.
- very nice, the kids loved it
Written by Flora D, on 17-02-2023
Tested with 8 children (girls and boys) for my son's 8th birthday. I recommend it!
- Good survey
Written by Lucie Hoareau, on 05-07-2022
I took the survey for a birthday party for a 10 year old. There were (only) 4 of them. It went well and the survey was fun. The facilitator was a little lacking in punch and enthusiasm but the survey is fine. On the other hand, I think that the end should be modified: the children did not appreciate doing the activity at the end (a street art work in the street while we tell them during 1 hour that it is not allowed....) and it would be better to do it on a paper canson for example and that they take it away as a souvenir!
- great time for everyone!
Written by Anne L, on 20-06-2022
From the beginning the children were put in the atmosphere by the animator who knew how to take them with him in the discovery of the multiple facets of the street art of the 13th. He was able to suggest the whole group, which was already quite large, and to include everyone in turn. They were delighted with the final surprise (even if we had to deny the whole herd in the street 🙂 ). On the other hand he left so quickly that we could not give him a "chouquette" kept by the children... thanks to him and to advise
Discover our other birthday packages in Paris