For children from 7 to 12 years old
But who is this artist in the Butte-aux-Cailles? Who is this mysterious Street Artist who asks us to participate in his work? The children will have to go through a part of the 13th district, redoubling their caution and attention to complete this mission?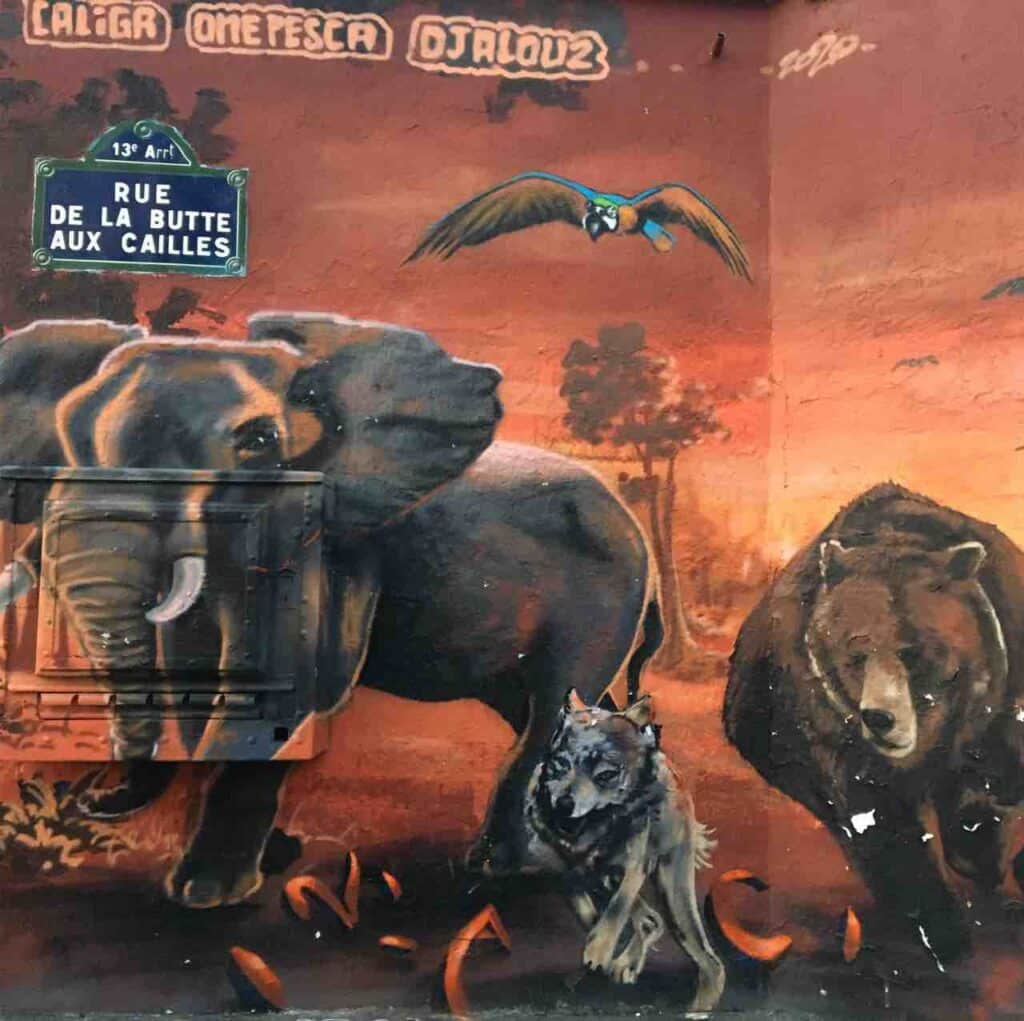 THE TREASURE HUNT-INVESTIGATION
The guide was contacted by a mysterious street artist. Although he is world famous, nobody knows his real identity. He always works incognito and asks others to put up his works in the street. The mission of the children: to find his work and install it. It is a thrilling game in which the children will discover the mysteries of this artist in a fun way. A real team effort with this game that goes develop their sense of direction, logical and observation.
For an hour and a half, from signs found on a statue, from a label hidden under a bench, from a clue given by the facilitatorthe children will have to think, to show judgement to pass to the next stage
They will solve riddles and each correct answer will allow them to advance on the course until the final goal, to find the work of this mystery artist
They will leave with a small trophy at the end of the game
Parents can be present but beware (!!) forbidden to burn the children's blanket!
It is a very popular area for parents quiet area with few cars
PRICES (same price as direct)
150? (up to 8 children)
180? (up to 10 children)
210? (up to 12 children)
Beyond 12 children, the game loses its interest. We do not recommend it. However, if your child wants to invite more children, Contact us
the snack is not included in this formula
Choose the date (and time) you would like to book this service. We will inquire about the availability of the animator (answer within 72 hours). You will be charged only after confirmation of availability
---
Choose the date (and time) you would like to book this service. We will inquire about the availability of the workshop (answer within 72 hours).
---
USEFUL INFORMATION
AGE for children from 7 to 12 years old
NUMBER OF CHILDREN S formula (up to 8), M formula (up to 10), L formula (up to 12)
WHEN Wednesday, Saturday and Sunday /
HOURS at 10:00 am OR 1:30 pm or 3:30 pm
THE PLACE in the Butte-aux-Cailles district (13th)
RENDEZVOUS POINT Place d'Italie (in front of the entrance to the Italie 2 shopping center)
DURATION : 1h30
WEATHER : the treasure hunt is maintained in case of rain (this will be the time to take out the rubber boots and umbrellas)
TENUE Good shoes and don't forget a small bottle of water, hat and glasses if the weather is very nice
---
Find the list of our reviews
No opinion for the moment.
Discover our other birthday packages in Paris