For children from 7 to 11 years old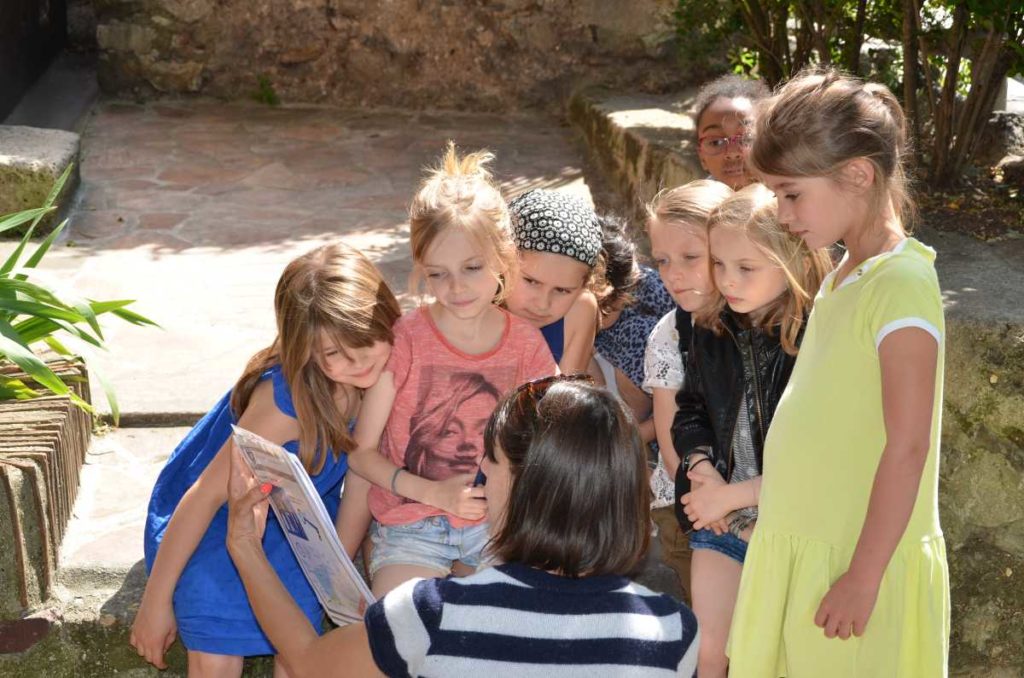 The investigation game: who commits all these thefts without leaving any trace?
By the game and the resolution of enigmasthe children will evolve in Montmartre with the guide who will tell them stories. They will discover the vineyards of Montmartre, the Sacré-Coeur, the Saint-Pierre church? A real team effort with this game that goes develop their sense of direction, logical and observation.
Who commits all these thefts in Montmartre without leaving a trace? This is the enigma that the children will have to solve
From signs found on the walls, hidden labels or cluesthe children will have to use their brains, think, cogitate to pass each step of the investigation
They will solve the riddles and each correct answer will allow them to advance on the course until the final goal
Each child will leave with a small trophy at the end of the game
The parents can of course be present, follow the group and take part in the game but be careful (!!) forbidden to blow the children's blanket!
---
USEFUL INFORMATION
ATge : for children from 7 to 11 years old
Number of children S formula (up to 8), M formula (up to 10), L formula (up to 12)
When Wednesday, Saturday and Sunday
Meeting place Carousel in Louise Michel Square
Duration : 1h45
Weather : the treasure hunt is maintained in case of rain (this will be the time to take out the rubber boots and umbrellas)
Held at In Montmartre, you will have to wear comfortable shoes (like sneakers) adapted to the neighborhood. Don't forget a small bottle of water, hat and glasses if the weather is very nice.
PRICES
(same price as direct)
Formula S 150 (up to 8 children)
Formula M : 190? (up to 10 children)
Formula L : 230? (up to 12 children)
Beyond 12 children, the game loses its interest. We do not recommend it. However, if your child wants to invite more children, Contact us
the snack is not included in this formula
Find the list of our reviews
- Very good
Written by julia soissons, 02-12-2021
My daughter celebrated her 10th birthday with her friends. She was absolutely thrilled and so were her friends. Both fun and educational. The children were also able to discover Montmartre in a different way. It was cold and rainy and yet everyone enjoyed it!
- Great activity for a birthday party
Written by Corinne, on 19-10-2021
A fun and instructive treasure hunt; a very professional animator who is very comfortable in his role. The children were caught up in the game and had a great time. I recommend the concept
- Very nice treasure hunt for a successful birthday
Written by Laurence , on 25-07-2021
Great afternoon, lots of anecdotes about the history of Montmartre, my daughter and her friends were delighted, bring good shoes and water for everyone and let you guide!
- An unforgettable moment for the children: to be done again and again!
Written by Véronique Molié, on 10-06-2021
I booked this treasure hunt for my son's birthday (9 years old). Everything was perfectly organized. The animator was great: funny and knew how to captivate the children with his story. He managed the group perfectly. The children (a group of 10 children from 7 to 10 years old) loved it! They talked about it for days afterwards. They had fun, visited places they had never been before, and learned a lot. I highly recommend and will do it again next year!
The treasure hunt - Investigation in Paris