For children 8 to 11 years old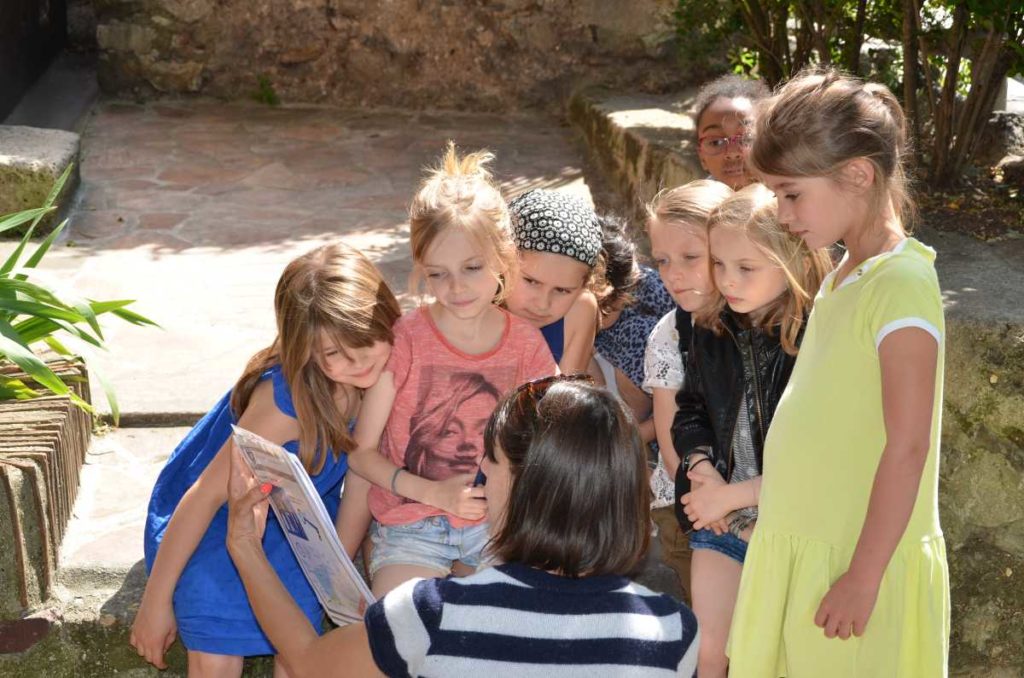 The investigation game: who commits all these thefts without leaving any trace?
By the game and the resolution of enigmasthe children will evolve in Montmartre with the guide who will tell them stories. They will discover the vineyards of Montmartre, the Sacré-Coeur, the Saint-Pierre church... A real team work with this game that goes develop their sense of direction, logical and of observation.
Who commits all these robberies in Montmartre without leaving a trace? This is the enigma that the children will have to solve
From signs found on the walls, hidden labels or cluesThe children will have to use their brains, think and cogitate to get through each step of the investigation.
They're gonna solve the riddles and each correct answer will allow them to advance on the course until the final goal
Each child will leave with a small trophy at the end of the game.
Parents can of course be present, follow the group and get caught up in the game, but beware (!!!) it is forbidden to burn the children's blanket!
---
USEFUL INFORMATION
ATge : for children from 7 to 11 years old
Number of children S formula (up to 8), M formula (up to 10), L formula (up to 12)
When Wednesday, Saturday and Sunday
Meeting place Carousel in Louise Michel Square
duration : 1h45
Weather : the treasure hunt is maintained in case of rain (this will be the time to take out the rubber boots and umbrellas)
Held at In Montmartre, you will have to wear comfortable shoes (like sneakers) adapted to the neighborhood. Don't forget a small bottle of water, hat and glasses if the weather is very nice.
PRICES
(same price as direct)
Formula S : 150€ (up to 8 children)
Formula M : 190€ (up to 10 children)
Formula L : 230€ (up to 12 children)
the snack is not included in this formula
Find the list of our reviews
- Superb entertainment in the streets of Montmartre
Written by Aurelie , on 18-09-2023
Great tour/run in Montmartre that allowed my daughter and her friends to learn lots of things while having fun and investigating! I recommend
- EXCELLENT!
Written by CC de Paris, 20-06-2023
Hello, Thanks to C14, we had a superb time, the children loved the tour of Montmartre, the riddles, the agent who was their guide etc... You just need to be brave because in Montmartre, there is the hill and it climbs! good shoes and hop hop hop! Fun, instructive and a little magical... We highly recommend it. Bravo to the team!
- Perfect!
Written by Jennifer Deret, 18-06-2023
My 9-year-old son and his friends loved this activity! They were all thrilled. Professional person who knows how to manage the group perfectly. I highly recommend
- Very pleasant even in the heart of a tourist site on a Saturday!
Written by GG, 20-04-2023
Very good communication with the organizers, very good introduction to the game and good management of the children. We feel the habit.
- The girls loved it and got into it!
Written by Celine ECHARD RIEUX, 16-06-2022
I recommend this activity. My daughter is 6 and a half years old and I think it is more adapted to 7/8 year olds. But the animator knew how to captivate them. Thank you very much.
The treasure hunt - Investigation in Paris