Theater - Comedy
Molière for the best comedy in 2022
For families, from 12 years old
A delirious piece, which breaks down the walls...
WE LOVE : I love this play, Molière for the best play of the year
AGE : from 12 years
DATE:

until January 7, 2024

DURATION: 1h40
LOCATION: at the Fontaine theater (Paris, 9th)
East Berlin. Emma and Ludwig want to escape to the West.
Emma is hired as a caregiver at Werner Hofmann's apartment to take care of her senile mother. She is not there by chance, this apartment has a secret passage that leads to the other side of the wall...
The situation is already complicated enough, but if Werner is a Stasi agent, falls madly in love with Emma, and the apartment is a nest of spies, it turns into a burlesque.
Berlin Berlinthe comedy that breaks down the walls!
Other plays that are currently playing or will soon be playing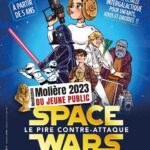 Space Wars, le pire contre-attaque WE LIKE: a very funny, energetic show with a...