1 hour cruise / The boats are air-conditioned
Reduced rate (from 7,50?)
Departure from the foot of the Eiffel Tower
Flexible tickets (not dated, not time stamped), valid for 6 months
Optional: a booklet Les Incollables® for 7/12 year olds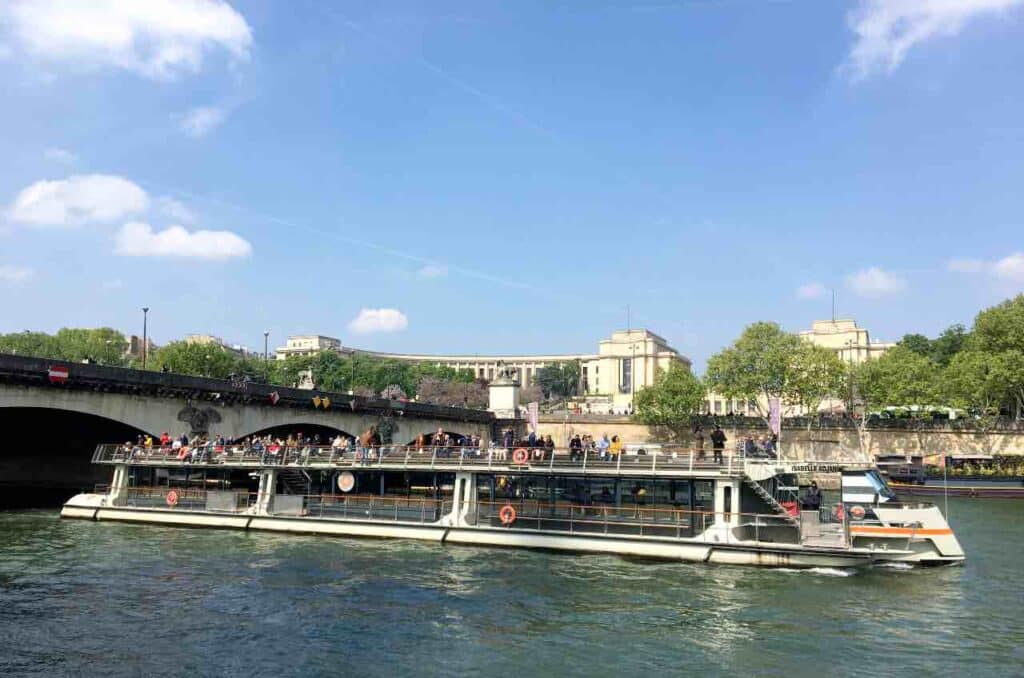 Bateaux Parisiens cruises
The route of the cruise Promenade de jour as at night allows you to see : the Grand Palais, the Place de la Concorde and the National Assembly, the Orsay Museum, the Louvre, conciergeFrom the Hôtel de Ville to Notre Dame. Turn around at the Institut du Monde Arabe
The journey is a loop: back to the starting point
The boats are equipped with?an open deck for the beautiful days. When it's cool or when it rains, the lower part of the boat is coveredtotally glazed and heated when it is cold
The boats are of average size. Capacity on sunny days: about 300 people. On rainy or cool days: 120 people
Duration of the Promenade des Bateaux Parisiens cruise: about 1 hour
The boats are air-conditioned
---
Schedules and information
Departure and return to the foot of Eiffel Tower
Up toto February 17 on weekdays 10:30, 11:15, 12:00, 13:15, 14:00, 14:45, 15:30, 16:15, 17:00, 18:00, 19:00, 20:00, 20:40, 21:20
Up toto February 17, Saturdays: 10h30, 11h15, 12h00, 12h30, 13h30, 14h00, 14h30, 15h00, 15h30, 16h00, 16h30, 17h00, 17h30, 18h00, 18h30, 19h00, 20h00, 20h30, 21h00, 21h30, 22h00
Up toto February 17 Sundays: 10h30, 11h15, 12h00, 12h30, 13h30, 14h00, 14h30, 15h00, 15h30, 16h00, 16h30, 17h00, 17h30, 18h00, 19h00, 20h00, 20h40, 21h20
From February 18 to March 5, every day of the week - 10h, 10h40, 11h15, 12h, 12h30, 13h30, 14h, 14h30, 15h, 15h30, 16h, 16h30, 17h, 17h30, 18h, 18h30, 19h, 20h, 20h30, 21h, 21h30, 22h
From March 6 to 31 on weekdays 10:30, 11:15, 12:00, 12:30, 13:30, 14:00, 14:30, 15:00, 15:30, 16:00, 16:30, 17:00, 17:30, 18:30, 19:00, 20:00, 20:30, 21:30, 22:00
From March 6 to 31 the weekend 10:00, 10:40, 11:15, 12:00, 12:30, 13:30, 14:00, 14:30, 15:30, 16:00, 16:30, 17:00, 17:30, 18:00, 18:30, 19:00, 20:00, 20:30, 21:30, 22:00
From April 1 to 7 10:00, 10:40, 11:15, 12:00, 12:30, 13:30, 14:00, 14:30, 15:30, 16:00, 16:30, 17:00, 17:30, 18:00, 18:30, 19:00, 20:00, 20:30, 21:30, 22:00
Show up about 20 minutes before departure
---
The Incollables® cruise (for children aged 7 to 11)
For children from 7 to 11 years oldBateaux Parisiens has set up a partnership with Les Incollables®.
They created together a Les Incollables® fan "The Seine and its secrets".
Les Incollables® "The Seine and its secrets" is composed of 7 cards with 36 questions/answers about Paris and the Seine. Children will discover Paris and its monuments with their eyes: the Grand Palais, the Place de la Concorde and the National Assembly, the Musée d'Orsay, the Louvre, the Conciergerie, the Hôtel de Ville and Notre Dame?
They will learn even more with the Quizzes of their Incollable®. They will play, cogitate, test themselves?
Where to get the Incollables® fan? Parents must present their ticket at the ticket office (even if they already have their tickets). The ticket office is now located on the quay, opposite the Bistro Parisien (pontoon 2).
Incollable® rate: 3,50? to be added to the price of the child ticket
---
Strong points
Tickets valid for 6 months from date of purchase
Flexible, non-dated, non-nominative tickets (no reservations)
E-tickets (on your smartphone, no printing, no waiting at the cash desk)
You can use your ticket on the cruise of your choice, without reservation
As soon as your payment is made, you will receive your e-ticket by email to be scanned when boarding: no need to go to the cashier
It is not necessary to print the ticket, it can be scanned from your smartphone
If needed, Contact us by email
---
Frequently Asked Questions
Find the list of our reviews
- Parisian boat
Written by Eloise Siret, on 26-12-2022
Perfect
- Beautiful cruise
Written by Marie WILLOCQ, on 30-11-2022
Pleasant stroll on the Seine, to discover the main monuments of Paris, accompanied by an audio in the form of dialogue. Possibility to go outside to take pictures.
- Great
Written by Myriam RICHOL, on 25-11-2022
Very pleasant, the comments were interesting and relevant. The team during the waiting time was very friendly. In short, a great family outing.
- We have to go!
Written by Danielle Gauvreau, 21-11-2022
Superb explanatory cruise It's really worth it!
- Always nice!
Written by Annie SOENEN, on 17-11-2022
It's a pleasure, this cruise on the Seine and my 8 years old niece was happy to learn a lot of things about the capital she was visiting for the first time! To do and do again...
-
Written by Anne-Sophie joskin, on 16-11-2022
- Walking cruise
Written by Francine VIEHE, 14-11-2022
Lots of people, comments on the audio-guides out of sync with the visible monuments, live comments from a member of the crew (due to a breakdown) that interfered with the understanding of the audio-guides.
- ..
Written by Nicolas Delzant, on 10-11-2022
Impossible to connect to the site to have the comments
- The untold stories October 26
Written by veronique MABY, 06-11-2022
This cruise was presented as a family kit cruise, therefore intended for children, but I found the comments to be uninteresting and more than limited. I was with two of my grandchildren, 9 and 10 years old, and fortunately I know this part of Paris very well, which allowed me to give them some explanations, otherwise, except that the cruise is very pleasant despite a very crowded boat, it has no cultural interest and has no link with the "incollables"! I was very disappointed. Nothing to do with one I did three years ago with another company for children of this age and very instructive.
- Cruise
Written by Elise CLERC-BARNABÉ, 01-11-2022
It's a pity that the cruise is not commented when we are on the floor.
- Walking cruise
Written by Tereza Diogo, on 14-10-2022
We sat in the front of the boat in the outside part, the walk would have been more pleasant if disrespectful people had not hidden the view by standing at the front of the boat and hiding the view all along the cruise, impossible to see and take pictures even if you ask them please, these people did not move, it is disrespectful and it spoiled the walk for many people
- Walking cruise
Written by Jacqueline Acker Muller , 31-08-2022
Too bad that out of 8 audio guides only 2 worked and that to get the comments on the bridge, you have to connect with the smartphone
- Very good reception
Written by Antoine COQUAND, on 27-08-2022
With a person in a wheelchair we were very well received and accompanied during the trip!
- Stroll on the Seine
Written by Anne-Laurence PETIT, on 23-08-2022
It was super hot. Going on the upper deck is very interesting when you want to take pictures. The guide quotes the monuments, bridges and buildings etc... The idea of the audioguide on the cell phones is great because it allows to deepen in History what we see. To do!
- Boat cruise
Written by Mariam Lahoual, on 21-08-2022
Excellent!
- Parisian boat cruise
Written by Sophie Louvel, on 17-08-2022
Great time spent with family. Very nice staff, no waiting (Sunday morning at 11am). Nice ride
- Cruise
Written by Alice GILARDEAU, on 29-07-2022
Very nice cruise especially at night but I paid 3 Euros to have the game with the "incollables" for my daughter during the cruise but nobody knew what I was talking about when I embarked so 3 Euros lost... it's not very serious...
- Mixed
Written by Aude BESSON, on 29-07-2022
I took the tickets in order not to queue on the spot. Except that at the boarding, I was told that I had to go through the cashier. After 45 minutes of waiting (in the sun) at the cash desk, I was told that my tickets were valid...
- Walking cruise
Written by Francoise Depoid, on 19-07-2022
I deplore the near deletion of comments. The obligation to use a phone to get information is null. Thank you for going back to the human side! Not at all satisfied.
- Nice walk!
Written by Marie Michèle Tisseur, on 14-07-2022
Very good, expectation quite correct.
- Excellent trip on a very beautiful boat.
Written by Thibishan Srivasanthan, on 11-07-2022
An activity to do I recommend
- Parisian boat
Written by Dior Diatta, on 05-06-2022
Nice experience
- the walking cruise
Written by Florence Duarte, on 22-05-2022
Very good
- Fly boat
Written by Christine Duplouy, on 20-05-2022
I found the comments on the monuments a little light, especially in front of the concierge desk, no announcement, a real shame
- Walking cruise
Written by Claudine Baldeyrou, on 17-05-2022
Very long waiting time No explanations along the way I had bought the children's booklet and never got it. Absolutely not recommended!
- Great guide!
Written by Marie SERRE, on 14-05-2022
Our guide was super nice and very kind to answer the children's questions!
- Family cruise
Written by ANNICK HAUTEFORT, on 14-05-2022
Good tour, interesting comments. To be recommended
- Fly boat
Written by marion fonvieille, on 28-04-2022
Super nice because good weather and arrival in the first so nice places at the top
- Parisian boats: the promenade cruise
Written by Thierry Trossel, on 13-04-2022
Activity done at the beginning of December around 18:00 with 2 children of 10 years old. Really not to make in these conditions: long wait under the wind and the rain, we do not see much of night since the inside of boats, the audiophones do not work all... in short, we were impatient to arrive, we got bored. It's a pity, we had a lot of hope on this walk since it was the first day of our first stay in Paris. It is not impossible that we do not try again a walk on the Seine, but of day and with sun.
- Magical!
Written by annelaure francillette, on 22-02-2022
It was really a great ride. The children were amazed! The return trip was done at night, which gave us another perspective. On the other hand, the explanations were very limited. Take your cell phone to know in front of which building you are passing.
- River tour
Written by Martine .bardon, on 02-02-2022
It's a pity to have programmed this walk in winter! To be done again in the nice season
- Fly boat
Written by pauline deloubriere, on 16-01-2022
Very well organized, we shared a good time as a family, reserved the seats before practical and simple
- Paris by night
Written by AUDREY MARKEY on 16-01-2022
Small tour on the Seine in the late afternoon to admire the illuminations during the holidays. Very good time with the family. View on the beautiful monuments of Paris, explanations all along the navigation. We loved it.
- cruise with 2 children
Written by Bernadette Degove, 16-01-2022
The children were very happy with their cruise despite the cold weather.
- Especially good for the view
Written by Jean-marc Sobral , 05-11-2020
Very nice tour in the heart of Paris. On the other hand, the audio guide can do better, not in phase with the place where the boat is and the explanations on the monuments are not of a good level : Too bad
- Very nice
Written by Annick Wargnez , 13-08-2020
Of course, it is.
- What a disappointment!
Written by Sophie Martin, 13-08-2020
More than 1h30 of waiting before the arrival of the boat to finally be told that it was not the right quay and of course nobody on the spot to ask for information! I strongly advise against it, it is so much easier with the boat-mouches...
All cruises on the Seine