Frequently Asked Questions
Is the Health Pass mandatory?
No, currently, the Health Pass is no longer required
Can we smoke on the Bateaux-Mouches?
Smoking is allowed outside on the pontoon and upper deck
Is there a toilet on board?
Can we bring our food on the Bateau Mouche?
Yes, you can eat during the cruise.
Are dogs allowed on the Bateaux-Mouches?
Yes, as long as they are kept on a leash
Can we bring luggage (suitcases) on the Bateaux-Mouches?
Yes, suitcases and other luggage are accepted.
Where to park near the Bateaux-Mouches?
Les Bateaux Mouches has a free parking lot
Which metro station for the Bateaux-Mouches?
The nearest metro station is "Alma-Marceau" station
How long to arrive in advance for a cruise on the Seine by Bateaux Mouches ?
We advise you to arrive 15 to 20 minutes (except school vacations) and about 30 minutes before during school vacations
Bateaux Mouches or Bateaux Parisiens
Which cruise to choose between the Bateaux Mouches and the Parisian boats ? The Bateaux Mouches leave from the right bank, at the Alma bridge. The Bateaux Parisiens leave from the foot of the Eiffel Tower, on the left bank. The route on the Seine of both companies is identical.
Can we come with a stroller?
Yes, you can take your stroller on board. Scooters are also accepted on board
Should I book a cruise on the Bateaux Mouches?
For the promenade cruise, tickets are neither dated nor time-stamped. There are no reservations. On the other hand, for the lunch and dinner cruisesIt is necessary to reserve a date and a time slot. For information, to benefit from the discounted ratesTickets must be purchased online.
Why the name Bateaux Mouches?
No relation to flies! The Bateaux Mouches are called so, because the 1st boat to have performed walks on the Seine was called the Old Smee.
The Vieux-Mouche was a boat that transported visitors from one site to another during the 1867 Universal Exhibition. This boat was then bought by the Compagnie des Bateaux-Mouches, when in 1949, Jean Bruel created his company to show Paris by river.
Visionary because he foresees the development of mass tourism in the future, Jean Bruel wants to make the Bateaux Mouches an attraction that allows tourists to admire Paris from the Seine by day and by night
Walking, lunch and dinner cruises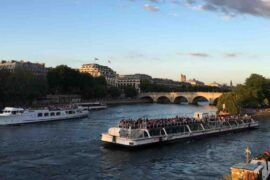 The circuit of the cruise in Bateaux-Mouches (7 days a week) Take the boat for a cruise on the...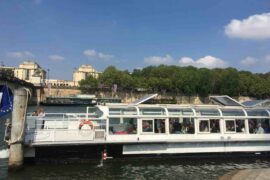 From 8? - 9 stations in Paris