In the 7th in Paris or at home (Paris and near suburbs)
A workshop for budding florists ! Passionate and caring animators will accompany and help the children in the creation of a floral composition or a bouquet.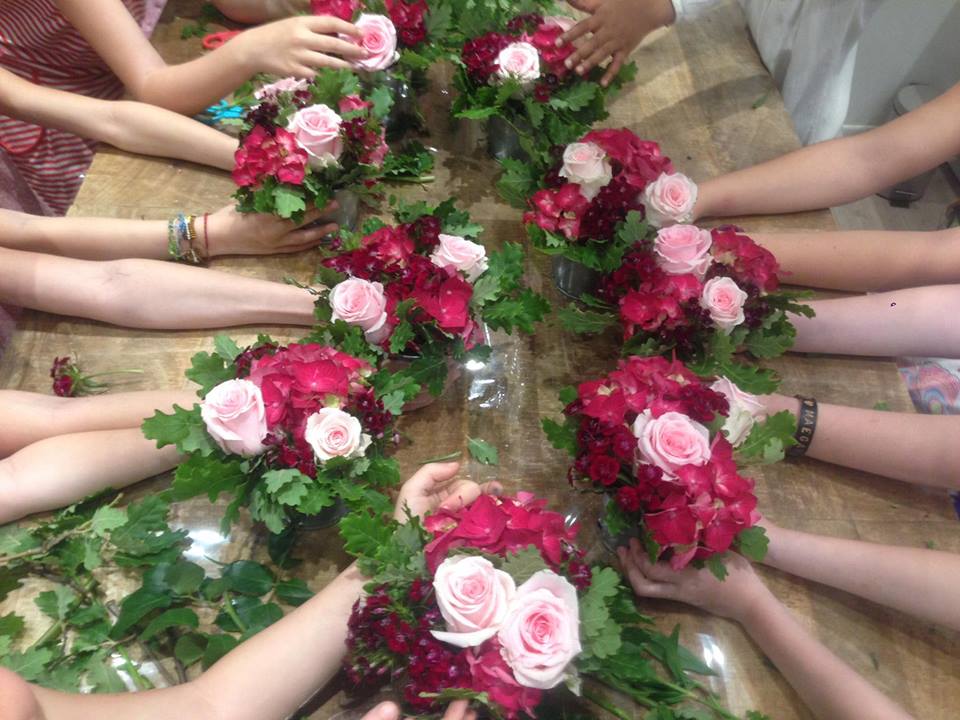 WE LOVE :
the joyful and fun atmosphere of this workshop
Age : 
for children from 5 to 10 years old
Budget: 
25 € per child
LOCATION: 
in the parents' home or in the 7th in Paris
The formula "Birthday flower"
The creation of a 3D map that will accompany the floral composition (fun activity around flowers): collage, coloring etc ... (about 30 minutes)
The creation of a bouquet or floral arrangement (about 1 hr) - Parents can tell us if their daughter or son has a favorite color a favorite flower for making the composition.
Afternoon tea (optional)
* These workshops are aimed at both boys and girls
The rates
Workshop Price : 25 € / child (for 1h30 workshop)
Supplement for birthdays at home: 25 € for travel expenses
Formula taste *: 50 € for the group of children (cake + drink + candy) - Duration from 30mn to 45mn
Supplement for a personalized cake: 30€
* The snack formula is only available if the birthday is at the workshop in the 7th
* The parents can bring to the workshop the snack if they wish (taste at their expense).
Useful information
Age : from 5 to 10 years
Number of children : 6 children min. and 12 children max.
duration : 1h30 (for the workshop) + 30mn to 45mn approximately for the snack (optional)
When : Wednesday afternoons, Saturday afternoons, Sunday afternoons and every day during school holidays
Place : in the 7th in Paris (Ecole Militaire) or at the parents' home (in Paris or near suburbs)
The animators : a bouquetist craftsman and a specialist in event creation
WE LOVE THESE FLORAL WORKSHOPS
It's the meeting of two passionate, Céline and Mathieu who wanted to pass on their knowledge and passion to children. A beautiful alchemy between a bouquet artisan and a workshop creator for young and old. Workshops are held in a space dedicated to flower, curiosity and discovery
Children play with colors and scents: it's a fun and sensory invitation in a warm and friendly atmosphere
They plant, sow, learn to compose a bouquet
They discover families of plants and flowers and awaken to nature
We have fun, we laugh and we go home with a nice composition
Frequently Asked Questions
Can parents stay during the birthday?

 

  Uh no ! It's just for kids
Is there a minimum of children for the birthday workshop?   Yes, 6 children min.
How is the birthday at home?

 

  The facilitator comes to your place with his material and animates the workshop for 1h30
Where is the workshop?  At a florist in the 7th arrondissement in Paris