October 31 from 10am to 6pm A program to give you chills !
Aquarium de Paris : special Halloween day
We like: celebrating Halloween with fish
Age: for children, from 3 years old
When: October 31 from 10am to 6pm
Place : Aquarium de Paris (Paris 16ème)
Halloween at the Paris Aquarium: the program
Halloween at the Aquarium is even better if you come dressed up!
Along the way, children become scary monsters by making their own masks or by participating in the horror makeup workshop.
At 3pm, don't miss the bewitching show of Claire the mermaid.
And the evil and horrific educational mediators give a lecture "Sharks and Sea Monsters".
All these activities are included in the price of a normal ticket.
In addition, a snack basket (a cookie, a clementine, a small bag of candy) is offered to each child (price of the basket: 3.90 euros).
IDEAS TO CELEBRATE HALLOWEEN :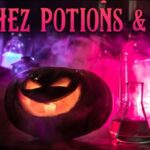 October 30 and November 1