Come celebrate your birthday with your friends at FlyView and take to the skies of Paris!
From 7/8 years old (min. 1m20)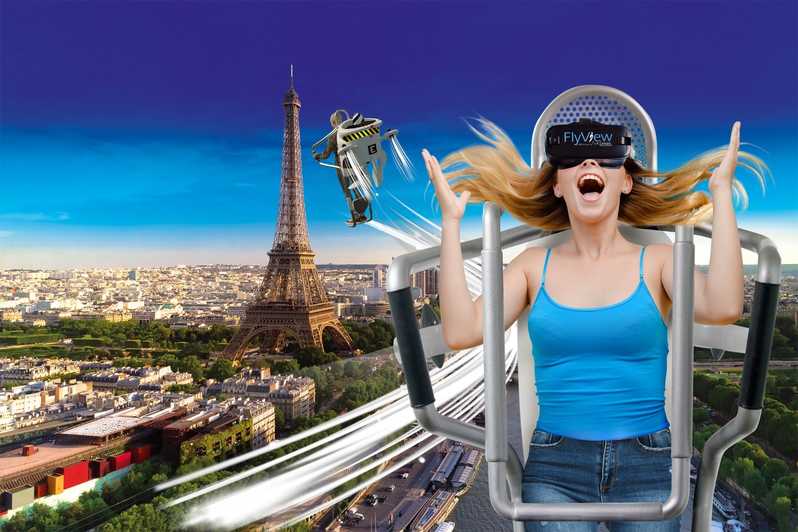 MY "FLY OVER PARIS" BIRTHDAY PARTY.
Reception of the children and the parent
Explanation time by the Flyview team to the parents 5 min and drop off the cake in the room.
Boarding and Incredible Overview 35 min
Time photo space 15 / 20 minutes (at the interactive terminals with instant printing)
Taste (about 30 minutes)
"THE INCREDIBLE FLYOVER", IMMINENT TAKEOFF...
It is an aerial visit of Paris that will give the children an unusual cultural experience, a 360° panoramic view of the monuments of the most beautiful city in the world
Aboard a jetpack, a real flight simulatorthe kids are gonna put on their helmets and fly over Paris
On a dynamic platform, the children will take off, accelerate and vibrate to the rhythm of the flight. Sensations are guaranteed!
During this experience of fly over Paris in virtual reality, they will fly over Notre Dame (before the fire that destroyed its roof), an ascent inside the the Eiffel Tower, the Champs-Elysées, the Concorde, the Arc de Triomphe, the monuments on the banks of the Seine
A 20km route with about twenty monuments overflown: it's spectacular and children will discover Paris as they've never seen it before.
PRICES
36€ TTC / child
The rate includes The Incredible Flyover" + 1 free paper photo per child + 1 private room + 2 juices (per child) + 1 package of candy + a booklet for the children related to the flyover experience, in paper version that will be given to each child.
Deposit check: 500€ (all taxes included) returned after the inventory of fixtures made by the Flyview team (payable to FV and given back on the day of the service).
USEFUL INFORMATION
AGE (OR HEIGHT) Children must be at least 1m20 tall for the "Incredible Fly" experience (7 to 8 years old minimum).
NUMBER OF CHILDREN minimum 6 children / no maximum
PLACE at Flyview (in the 2nd)
DURATION : 1h30
One parent (accompanying adult) is mandatory for the duration of the birthday party. (however, only the children experience "The Incredible Flyover")
TASTE IT
Privatization of a room for a snack
Beverages and sweets are included in the package. (2 glasses of fruit juice / child and 1 packet of candy) / Cardboard cups are provided
At the charge of the parents the cake + plates + napkins + cutlery
Duration of room privatization : 30mn
MORE BIRTHDAY IDEAS