- Theater -
For 7-14 year olds
WE love : A very funny show that speaks to pre-teens
Age : for 7-14 year olds
Date:  until january 28, 2024
Dduration: 1h30
Location: Grand Point Virgule Theater (Paris 15th)
For the first time, teenagers talk to teenagers, it was time!
CULTE ! THE TEENS are back on stage for a 15th consecutive year.
Totally unique, this is THE show for teens and their parents!
Lise, Yanis and Arthur invite you to enter the wonderful world of adolescence. A funny and burlesque show led by three multi-talented actors.
On stage, they sing, dance and take us on this incredible adventure that is adolescence.
Parents, run to see this show with your family, an unmissable opportunity to finally understand your children better. Dear pre-teens, if your parents are annoying you, which is very likely, this show is for you.
The press speaks about it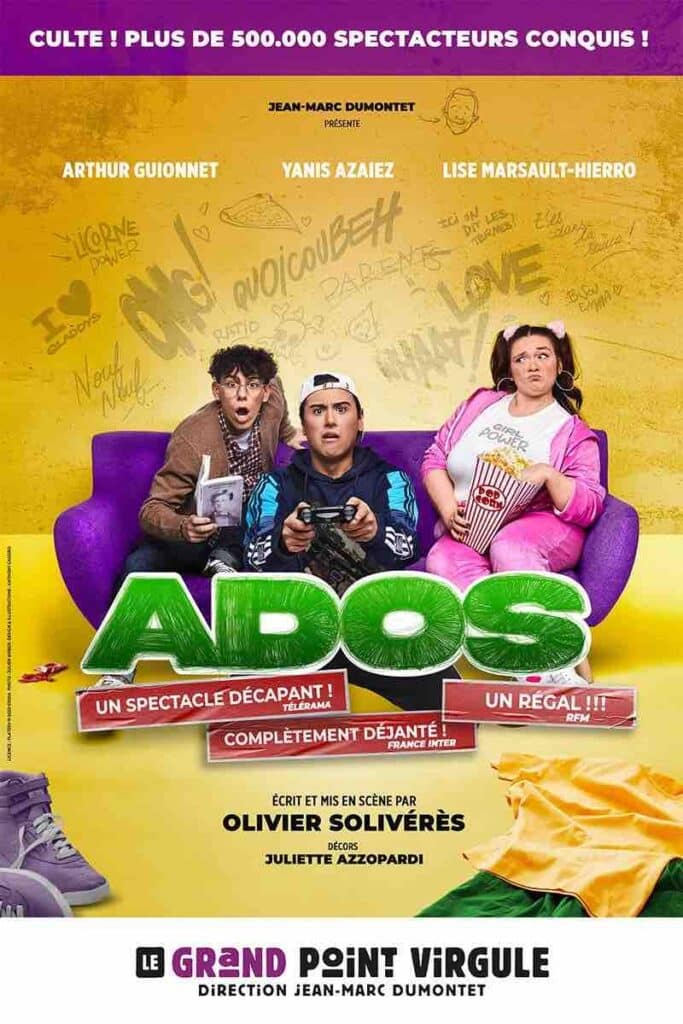 " A scathing show " Télérama
" A completely crazy comedy, we laugh a lot " France Inter
" A show that will appeal to parents and pre-teens ". RFM
" A treat!!! The play is a hit with pre-teens and their parents " The Pariscope
Plays to be performed or to come in Paris