For 70 years, Bateaux Mouches sail on the Seine in Paris. Today cruises on the Seine are an integral part of the Parisian landscape, but in 1949, the year of the creation of the Compagnie des Bateaux-Mouches, it was quite a novelty!
History of the Bateaux-Mouches: but why the name "bateau mouche"?
No relation with flies!
The Bateaux-Mouches are so called, because the 1st boat to have made walks on the Seine was called the Old Mouche.
The Vieux-Mouche was a boat that transported visitors from one site to another during the 1867 World's Fair.
This boat was later bought by Compagnie des Bateaux-Mouches, when in 1949, Jean Bruel created his company to visit Paris by river.
Visionary because he foresees the development of future mass tourism, Jean Bruel wants to make Bateaux Mouches an attraction that allows tourists to admire Paris from the Seine day and night.
Cruises on the Seine today
By themselves, Bateaux-Mouches is the 4th tourist attraction site in Paris. After the Eiffel Tower, the Louvre Museum and the Centre Pompidou.
Indeed, every year, 2.6 million visitors board a Flyboat.
If we consider all the boats on the Seine, these are 8 million people (tourists as Ile-de-France) who make an annual cruise on the Seine.
The traffic on the Seine in Paris is intense since there are 90 companies and 210 boats, such as those of the Compagnie des Bateaux-Mouches or Stars of Paris or some Batobus to only cite a few.
Today cruises offer simple one-hour rides or cruises catering which last according to offers between 1h15 and 2h30. With children the 1h15 cruise is ideal.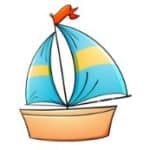 Discover our discounted rates for the Bateaux-Mouches
The adult rate is 14 €
The child rate (under 11 years old) is 6 €
We propose discounted rates for couples and families
Our rates can reach 25% off and sometimes at our flash sales, the promotion can go up to 30%
The cruise is free for children under 4 years old
In any case, our tickets are valid for 2 years, without restriction of days or schedules.