WE love : a great show, a lot to see
Age: for all, from 6 years old
Duration: April 4 to 14
Location: Accorhotels Arena Bercy (Paris 12th)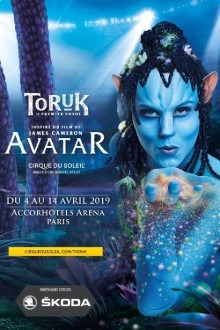 Cirque du Soleil presents its latest show: TORUK
After the success of TOTEM presented in Paris during the Christmas holidays, cirque du Soleil returns to Paris with a brand new show : TORUK
Toruk - The first flight is a live and immersive multimedia show which transposes on stage the breathtaking world from James Cameron's movie AVATAR
Multimedia projections, puppets, ingenious stage techniques, amazing artists... the view !
TORUK? The first flight is a mythical tale that takes place thousands of years before the plot of the film AVATAR, so before humans set foot on Pandora for the first time.
Cirque du Soleil, one of the most famous circuses in the world
Created by Guy Laliberté in 1984, the Cirque du Soleil is now famous all over the world.
This Circus owes its name to the sun which represents, according to its founder, energy and energy and youth.
These are currently more than 20 Cirque du Soleil troupes performing all over the world around the world, with 1,300 artists from over 50 countries around the world.
Originally, this Quebec circus was born from the shows of a street theater troupe. Their artists were noticed by their impressive shows mixing stilts, dance, juggling and fire dance, juggling and fire-eating.
Today, Cirque du Soleil stands out primarily for its spectacular artistic performances and performances and its grandiose scenography that plunges spectators into imaginary and magical worlds. and magical worlds.