Paris by night and its Christmas lights with Tootbus (Open Tour)
Up to and including January 1, 2023
Be careful to book quickly, places are going fast!
WE love discover Paris by night at the time Christmas parties
Age : all audiences, even with young children
The +: everyone is guaranteed to be on the upper deck (45 seats max)
Date November 25 to January 1 inclusive (except December 24 and 31)
Schedule departure at 6pm
Place of departure 11, rue Auber 75009 Paris (metro Opéra, Auber or Havre-Caumartin)
duration : 2h
Free : for children under 3 years old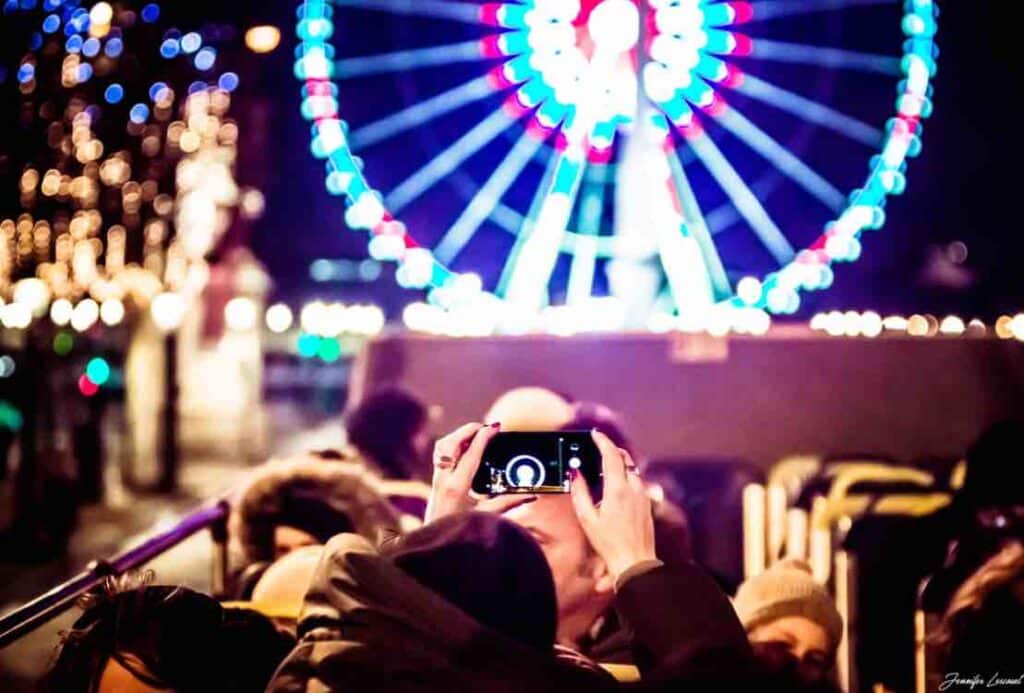 ---
The Christmas lights tour with Tootbus (Open Tour)
It is a visit of Paris at nightfall, double-decker panoramic bus with a upper deck (you are guaranteed to be on the upper deck, if you wish)
It is a very pleasant way to enjoy the magic of Paris at night at the time christmas parties. A fun activity with kids at Christmas!
You will admire in particular, the Champs-Elysées decorated for Christmas, lhristmas windows in department stores, the Place Vendôme illuminated ...
A hot drink is offered before departure
Audioguides include Christmas carols
You must arrive at least half an hour before the event
Audio commentary available in French and English
The bus tour takes place on December 25th (complete) and the January 1st
Practical information
Departure : 11, rue Auber (Paris 9e), metro : Opéra, Auber or Havre-Caumartin
Do you have to present 30 minutes before departure - Reservation required
Present your e-ticket to the Tootbus driver (Open Tour), on your smartphone or in printed form
Tickets are valid for the day and time chosen at the time of booking
Tickets are neither cancellable nor refundable
They can be modified in agreement with Tootbus (Open Tour)
Find the list of our reviews
- Bad your headphones
Written by annie PETIT, on 29-12-2022
I would have liked to hear your comments better
- 1 year ago at the same period in December, we appreciated the availability of a travel blanket. This year : no blanket while it was very cold on December 10th, moreover we stayed about 10 good minutes in front of the restaurant.
Written by guy vugliano, on 13-12-2022
experience to recommend
Reply from FamilinParis
Written by the Familin'Paris team
Hello, Following your message, we have inquired and indeed this year there are no plaids available. Maybe for sanitary reasons. So you have to cover yourself well... However, there is always a free hot drink
- Disappointed with the service
Written by Severine Leneveu, on 12-12-2022
Disappointed... the circuit was not respected....we passed in streets not illuminated....no ascent of the Champs Elysees....no plaid proposed as indicated on the site...the organization of the departure is to be revised
Reply from FamilinParis
Written by the Familin'Paris team
Hello, Madam, We are very sorry. We will forward your message to Tootbus. Sincerely The Familin'Paris team
- Top
Written by Hélène Grimaud, on 12-12-2022
Yes
- good circuit
Written by yves nachez, on 10-01-2022
good welcome and good tour.commentary a little bit fair fortunately that I know the places I could indicate to the person who accompanies me the monuments and various.
- Visit "Christmas illuminations" very nice.
Written by Eric POUGET, on 06-01-2022
Visit "Christmas illuminations" very nice.
- Great
Written by Anne Mathy, 04-01-2022
Very friendly welcome, well informed and easy to find starting point. Interesting information presented in a playful way for all ages. A must do ????
- Disappointing
Written by CARLA FICUCIELLO, on 28-12-2021
I was expecting a more festive your, especially because I had seen "gourmandises" when I booked. The welcome was nice but not festive, nor the atmosphere in the bus. I thought the bus had no roof, it was closed. We spent 1h30 in traffic jams. After 20mn our son already wanted to go back. There are in fact few points with illuminations compared to the time spent driving. I do not recommend this trip.
- Good Itinerary
Written by chantal , on 27-12-2021
Good itinerary but we were very cold
- Very few illuminations this year 🙁
Written by Nicole PEDRETTI, on 26-12-2021
Not this year
- It is beautiful
Written by sylvie pignon, on 24-12-2021
The minus : The traffic jams, The plus : the ride up the Champs Elysee, The bus waiting for the Eiffel Tower to sparkle! The comfort of the bus and the polar blanket! I recommend this activity
- Beautiful discovery of the illuminations but incomplete service
Written by Karine, on 23-12-2021
The walk is very good to discover the illuminations of Paris with children. However, I was disappointed not to have the hot drink and the candy, as planned in the description, whereas we were on the spot at the indicated time, that is to say a half hour before the departure of the bus. It's a pity because this is what gave the little touch of Christmas for the children, they were also disappointed.
- Pleasant tour of Paris in comfort
Written by Philippe SERROT , on 19-12-2021
Paris illuminated with the main sites visited. Pleasant atmosphere and very good conditions of comfort for this one hour and a half tour. Welcoming and available staff.
- Nice
Written by Dorothee Mokoyoko, 16-12-2021
Nice walk but too much traffic jam and the bus is not in the open air. Passage too fast near the Lafayette galleries...
- Dazzling!
Written by Solene , on 16-12-2021
Superb walk in family, with 2 children. The circuit allows to discover all the great monuments of Paris illuminated. It is magnificent! Very easy to book, many choices of date. Very friendly driver, hot chocolate and plaid offered!
- Rather disappointed
Written by Myriam Vinet, on 15-12-2021
I would not recommend this experience to anyone, - I was placed to fill a free seat, and therefore separated from my children! - Placed at the front, the rain prevented me from seeing the view ... ice wipers would have been welcome ! no real illuminations, except the Effeil tower, the Arc de Triomphe and the place Vendôme ! To sum up: next time, we'll do it by foot and bus/metro.
- A Magical Walk, Christmas before Christmas
Written by Madeleine SABASTIA, on 11-12-2021
To make absolutely, very beautiful discovery of illuminated PARIS, to make absolutely in this period, it is Magic.
- Very nice
Written by Aurore Snaps, on 10-12-2021
My mother was delighted
- Very good
Written by Marie Louise VUILLAUME , on 08-12-2021
We couldn't open the attachment to our reservation confirmation, so we showed up to board the bus without a ticket to scan. Despite this, we were very well received and enjoyed a perfect service. When you don't know Paris well (and it's raining) it's very practical, not too much waiting at the stops and easy to find buses. The tour of the illuminations was also very good. We recommend this activity. The staff is very friendly.
- Very pleasant visit of illuminated Paris
Written by MARIE-FRANCOISE MANTEL, on 04-12-2021
Comfortable bus, stops at strategic places, very good route. Activity to do for all
- Top but...
Written by Ciceou, on 02-12-2021
It was magical but the comments for children were not adapted. We talk about the Marais when we don't go there.... The kids were waiting for their chocolate lollipops...nothing....
Other panoramic bus tours
What to do at Christmas with your family?