-10% Familin'Paris offer (on individual tickets)
Next date in March not confirmed yet
The Teens Party is a famous discotheque in Paris, reserved exclusively for 13 - 17 years old
. It is
an evening in Paris
between teens, without alcohol. It's one Saturday a month from 5:30 to 11pm.
Thanks to the code FAMIPARIS, get 10% on the entrance ticket.
10% DISCOUNT ON THE PUBLIC PRICE
To benefit from the discount on individual tickets,
enter the code:
FAMIPARIS
at the time of settlement.
NEXT TEENS PARTY:
in March: date not determined for the moment
WHAT IS A TEENS PARTY?
It is a famous discotheque in Paris reserved for the teenagers, one Saturday per month from 5:30 pm to 11 pm
A trendy club with a modern setting that offers themed, non-alcoholic parties for 13 to 17 year olds
They have fun, dance, sing, party... among themselves and without adults
Drinks are NON ALCOHOLIC and at will, like candy
ALCOHOL PROHIBITED / CIGARETTES PROHIBITED
NO ADULTS (except for accompanying persons), so no bad encounters. The identity card can be asked if the guards have a doubt about the age
---
FIND THE PRINCIPLE OF THE TEENS PARTY SYMPA
This concept allows young people to have fun with each other in complete safety, without destroying your living room...
Practical, when you can't (or don't want to) organize a party at home. And it avoids getting angry with your neighborss
DJ and hip music, the kind they like!
Alcohol and cigarettes are prohibited... inside anyway!
PRACTICAL INFORMATION AND RATES
The Teens Party is:
For 13 to 17 year olds
From 5:30 p.m. to 11 p.m., one Saturday per month
next dates:

February 18, 2020. Exceptionally and for the 1st time from 10pm to 6am: Red and Black Night

February 29, 2020. Fashion Week Party

Make a note in your diaries of the following dates:

March 21: date not yet confirmed
April 18th
May 16th
June 27th

Location: 9, Daunou Street, in the 2nd
The entrance ticket includes:
free drinks
all-you-can-eat candy
free pancake stand
Bubble Storms
Free Makeup Booth
Top DJs & Performers
Presence of Personalities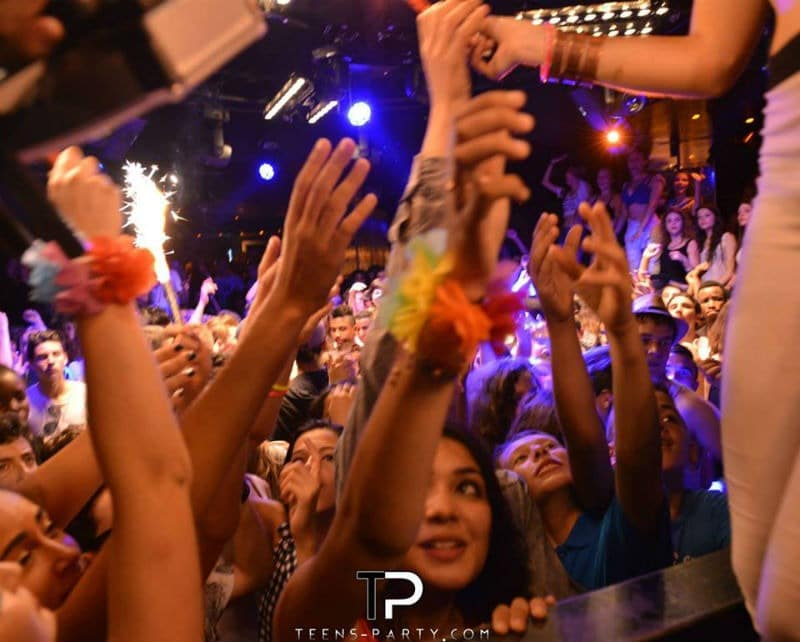 CELEBRATE YOUR BIRTHDAY AT THE TEENS PARTY
RESERVE ONE OR MORE VIP TABLES
FOR THE ANNIVERSARY OF YOUR TEEN (for 13/17 years old included)
The VIP table formula for 4 people (160?) includes :
drinks and bottles at will
candy and pancakes at will
offered accessories
Birthday cake offered on request
TO BOOK 06 58 99 81 81 - Specify that you are coming from Familin'Paris to benefit from a reduction
Frequently Asked Questions
What about alcohol? Alcohol is forbidden, the cigarette too
Can adults attend the parties? No, adults are not allowed (except the staff of the establishment), the identity card can be asked at the reception if the guards have a doubt
Is there a cloakroom? Yes, but it is paid and therefore monitored
What time should we come? As you wish between 5:30 and 9:30 pm. After that it's a shame, there's not much time left to enjoy the evening! The evening ends around 10:30 pm