Your teens will love it!
1h30 of walk - Every day at 6pm, 8pm, 10pm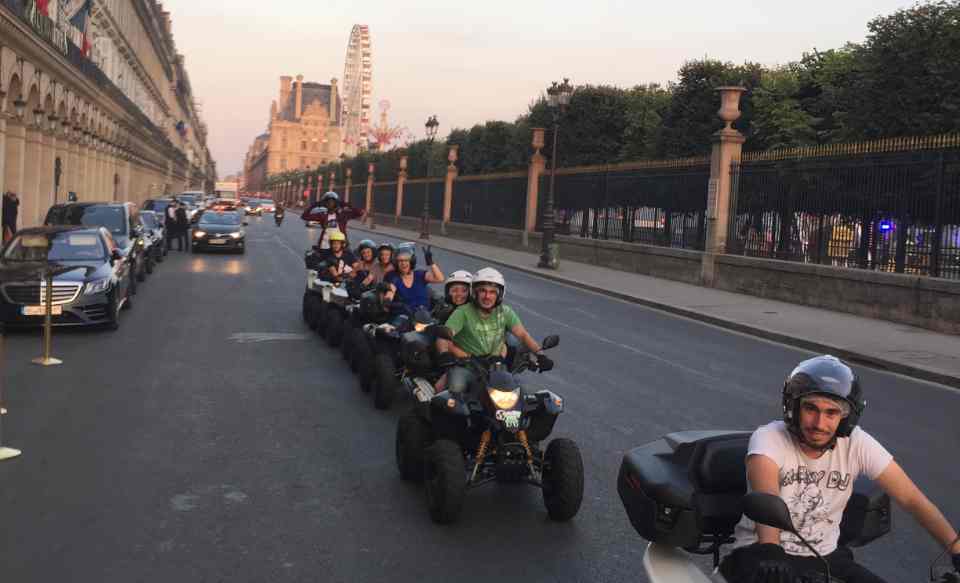 WE love
the super original guided tour to discover Paris
Reduced rate
: 98? (
115?
) per quad for 1h30 of ride. 1 or 2 people per quad according to your choice, for the same price
Duration:
1:30
HOURS: 3
departures currently : 6pm, 8pm, 10pm
Departure / ARRIVAL:
Paris 15th
THE GUIDED TOUR IN QUAD IN PARIS : SO ORIGINAL AND NICE !
It is aA very atypical guided tour of Paris!
A 1h30 walk by electric quad
A a fun way to discover Paris: we love it!
It's a Ideal outing with teenagers. Young people can from 16 years old drive the quad (without a license)

provided you have the BSR

(or the level 2 road safety certificate issued in the 5th grade) and upon presentation of an identity card
Children from 9 years old (on presentation of an identity card) can ride a quad, but must ride behind an adult or a young person of 16 years old or more
The route of this evening tour is superb. Paris at the end of the day and at nightfall, it's simply magical! Exceptionally, due to the curfew, the walks are currently held during the day
The course of the quad ride: Place de la Concorde, rue Saint-Honoré, Place Vendôme, Opéra Garnier, Louvre, Champs-Elysées, Arc de Triomphe, Trocadéro, Eiffel Tower, Invalides, Pont Alexandre III, Grand et Petit Palais
You stop to take pictures
It's very fun and easy. The quads have a forward gear, a neutral gear and a reverse gear. They are therefore very easy to drive. Before departure, the guided quad tour begins with a initiation and small reminders of safety instructions and the main rules of the road
It is imperative to be present 30 minutes before the departure
PRACTICAL INFORMATION
There is 1 guide for 6 quads, 2 guides for 8 quads
The guided tour in electric quad takes place every day of the week:
4 departures = at 6pm, 8pm and 10pm
1h30 stroll in Paris
Every day of the year including holidays with the exception of the following days: January 1, June 21 (music festival), the day of the techno parade, July 14, the night of the All-Nighter (in October), December 24 and 25
1 quad = 1 or 2 people. The price is the same : 98 euros per quad. On 1 quad, you can ride 1 or 2 people
Children under 16 years old must be accompanied by an adult on the quad. Price of a quad for 1 adult and 1 child: 98 euros
Minimum age for children accompanied by an adult: 9 years old (

Identification is required - Original ID card is required for insurance purposes

)
Minimum age required to drive the quad: 16 years old (ID required - Original ID is required for insurance purposes)
You are expressly asked to arrive 30 minutes in advance to complete the administrative formalities and prepare for departure. Please note that in case of delay, the group will not be able to wait for you and there will be no refund.
In case of heavy rain (or snow), or strikes that prevent traffic, the walk will be canceled and postponed to the date of your choice (no refund possible)
Group up to 16 people max (8 quads)
Departure / arrival : in the 15th district of Paris
Material and

Equipment provided: helmet and disposable cap, gloves. There are helmets adapted to children

Possibility to rent a stick to take selfies and a Gopro to film the experience (30 euros for Gopro rental + bring your sim card)

If you choose to do the quad tour in winter, remember to be well covered! Warm gloves are recommended.
The quads are insured with a motorcycle insurance including a civil liabilityThis insurance covers material damages up to 100.000? and unlimited bodily damages. Please note that, as in the case of a rental car, in the event of the driver's responsibility, the material damage suffered is not covered by the insurance. In this case, the driver will be responsible for all damages incurred up to the amount of the replacement cost as well as the accessories.
Modality of reception and validity of the tickets:
Once your payment has been made, you will immediately receive an email with the following information a voucher to present during your walk (no need to print it if you have a smartphone)
Tickets are valid for the day and time chosen at the time of purchase. They can only be changed in consultation with the organizer.
It is not possible to make reservations for the same day. We advise you to book as soon as you know when you want to do the tour, due to the success of this offer and the small number of quads available.
Tickets are neither cancellable nor refundable
In case of impossibility to circulate for reasons of heavy rain, snow or strikes, the service will be postponed to the date of your choice