1 Hoverboard initiation + 1 ride on the quays of the Seine
For adults and children (from 8 years old)
Duration 1h30
Departure (and return) from the 1st in Paris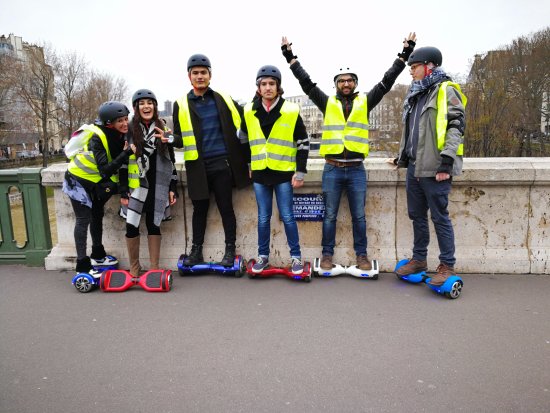 The Hoverbord ride
It is a walk on the quays of the Seine with an animator
It is very playful and easy !
During the Hoverboard ride, you will discover Paris, from the quays of the Seine, while having fun
It is an activity for beginners as well as for advanced users
Initiation (about 30mn) Use a Hoverboard, find your balance, go up or down the sidewalks, pass a manhole, slalom between passers-by...
1 hour walk on the quays of the Seine with an animator
We start from the Halles district (behind the Beaubourg center) and we walk along the quays of the Seine
Fun and laughter guaranteed!
As a couple, with friends, with family...
This service is offered for children and teenagers birthdays (formula with or without the snack)
Reduced rates from 2 tickets purchased
Practical information
When 7 days a week, every day of the year, including holidays
Duration : 1h30
3 departures per day 11:30 am, 2:30 pm and 5:30 pm
Initiation on the square of the Saint-Gervais church
Material provided Hoverboard + helmet + cap + protections (handles, elbow pads, knee pads)
Departure (and return) : rue des Lombards in the 1st
Age for all public, adults and children (from 8 years old and a minimum of 25kg)
The walk is assured if at least 2 people are registered. This one is likely to be cancelled if the number of registered persons is insufficient. In this case, your purchase will be refunded.
In case of bad weather if the tour is cancelled, a new date will be proposed
Not recommended for pregnant women
Wearing comfortable clothing and shoes is strongly recommended
Terms of receipt and validity of tickets
You pay a deposit online.
The balance is to be paid directly in the store, the day of your ride. The payment can be made by credit card or cash
Once your payment has been made, you will immediately receive a voucher by email confirming the reservation
Tickets are valid for the day and time chosen at the time of purchase.
Tickets can be changed in consultation with our service provider
The tickets are neither cancellable nor refundable, except for weather conditions that do not allow to make the walk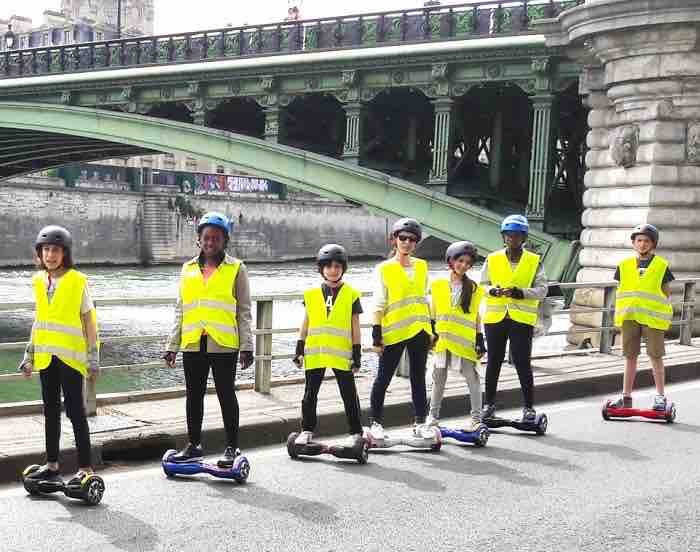 Find the list of our reviews
- Great moment ????
Written by Farida Ayad-Moudnib, 06-03-2023
Wonderful discovery! It was a surprise outing for my 17 year old daughter? I thought I was going to watch it but in fact after a little training for the team... here we go! Very nice ballad with a very good supervision. Thank you team for your attention, your advice and your smile! Team listening to our expectations and our pace! I recommend this trip to the banks of the Seine.
- Expensive, poorly organized, immature facilitator
Written by Tom Baccardi on 06-03-2023
Not living up to expectations
Reply from FamilinParis
Written by the Familin'Paris team
Hello, We are sorry about this failed experience. We will check with our partner about the course of your outing and get back to you. Familin'Paris
- Super nice, good discovery!
Written by Maud BERTHAULT, on 27-02-2023
What I liked : that my 8 years old daughter discovered and tried the hoverboard, by making 1 small valade on the quays of the Seine. Easy reservation and good support for the change of day and time that we had to do in fine. I recommend without problem this activity.
- Delighted with the experience
Written by Viviane SORBA, on 27-02-2023
The girls (11 and 15 years old) were delighted with this experience in Paris, even if the weather was not good. Mohamed was very patient and careful, he took the time to train them before leaving.
- An incredibly fun experience for all ages: Hoverboard ride
Written by Nathanael RAMOS, on 25-01-2023
My 12 year old daughter and I had a great time on our Hoverboard ride in December. It was my first time at 50, I was a little nervous but after 10 minutes it was crazy fun. The feeling of sliding was incredible and we were able to move easily and safely thanks to our guide. My daughter was delighted to be able to share this moment with me and it strengthened our complicity. We highly recommend this experience to all thrill seekers and new technology enthusiasts.
- Original and fun!
Written by olivier, on 24-10-2022
A nice little walk on the docks. The reservation was simple and fast. The handling of the hoverboard is easy, even for children.
- Original and nice outing
Written by Marlen Gysel on 21-10-2022
We really liked the concept, to do something active, a little challenge of balance and driving while discovering the banks of the Seine with a view on the island of the city. Great discovery of the bike-pedestrian tunnel with artworks on the wall! Be careful, at high speed you might lose control of the bike. The guide was very nice and funny. He could have told more about the environment and described what we see. He was also very flexible to postpone the schedule because of our delay. Absolutely add a direct contact number, because the person in charge of familin-paris was difficult to reach. We recommend without hesitation!
- Big difference
Written by VH, on 19-08-2022
I have a big doubt about the "very easy and fun". Two falls from the same level backwards on my back in the first minutes? one week into a hiking vacation (just to say that I am rather sporty): I hesitate to persevere: I will surely succeed, but at what? To break something in addition to doing the animation on the sidewalk in front of the store? Maybe some prerequisites that should have been pointed out? I am very tall, not easy to parry for the instructor who did not hold me back in my falls? For the rest, big disappointment in terms of customer relations: we were offered electric scooters: ok that's fine. But there is no more available! We are offered another thing sitting on the ground on the hoverboard. Frankly we feel it not too much. We ask if we can have a discount or postpone a scooter session: at the reception we can't do anything, we have to see with the boss who is not there. They suggest us to write him an e-mail: promised he will answer. Written mail, reminder. No answer?
Reply from FamilinParis
Written by Familin'Paris Team
Good morning, Madam, Following your comment, we have inquired with our partner. Indeed, an alternative solution has been proposed to you. You are cordially invited to do the electric scooter outing on the date of your choice (it is probably an easier activity!). You will just have to pay the difference in price between the hoverboard and the scooter, i.e. 10 euros extra per person.
- Cancelled experiment
Written by Dominique Blomme, 18-08-2022
The activity was cancelled because at least two people were needed according to what I was told on the phone. But the payment of the 7? has been cashed and not refunded. To be avoided!
Reply from FamilinParis
Written by Familin'Paris Team
Hello, We are sorry about this cancellation. We were not informed, otherwise we would have refunded you immediately, which is quite natural. For the next time, please note that you only need to inform us of the cancellation to get the refund. This will be processed today.
- You cancelled twice
Written by Andy H, 05-08-2022
Canceled
- Great the kids loved it
Written by Slim Kacem, on 01-07-2022
Yes
- expensive but really fun and friendly staff
Written by Berenice Herisson, 23-06-2022
A little expensive but apart from that nothing to complain about. Our guide was competent and very patient, the tour well thought out, the equipment adapted. Very nice.
- Tip top I recommend super nice team
Written by Karine Damoulakis, on 22-06-2022
I recommend fun and original and the manager is very nice as well as the young but attentive and pedagogical supervisors
- Much appreciated! Good welcome
Written by LOIC DECLUZEAU, on 02-06-2022
The walk on the quays is a very good idea. The reception is very nice I would recommend this trip
- Beautiful ballad
Written by Samia Aouad, on 30-05-2022
Friendly and attentive team. I highly recommend this trip.
- Nice but...
Written by sabine Dunias, on 25-04-2022
Great welcome, very nice supervisor who takes the time to familiarize you with this unstable machine. After a little acclimatization to the object, the ride begins, first a little "sportive" in the sense that it is necessary to share the way with cyclists, pedestrians...then more relaxed on the quays of the Seine. Although expensive for a family of 4 people, the moment could have been nice but .... my husband fell and made a big sprain of his ankle. So obviously, the memory kept is not great. In the emergency room, we were told that the Hoverboard for the less young (we are 40 years old) was the equivalent of the trampoline for the children, the most accident-prone gadget! Although very nice, our supervisor could not really help us, it was necessary to bring back the machines to the store before helping the victim, like simply finding a pocket of cold in a first time, to freeze immediately, that would have been however useful. When you find yourself on the banks of the Seine with a sprain and a broken foot bone...it's immediately hell. So I would rather advise you to use a scooter or a wheelchair with handlebars, which seem to be more stable unless you are not afraid of being in a cast with crutches for several weeks. Finally, maybe for the price, a quick presentation of some of the buildings seen along the Seine to turn this simply "fun" stroll into a fun cultural visit could be appreciated. To finish on a positive note, I repeat, the reception and the supervisor were really nice.
Reply from FamilinParis
Written by
We are sorry that your husband was injured during this ride. This is the first time that such an accident has occurred during a Hoverboard ride. We sincerely wish him a good recovery. We exchanged with the organizers. They told us that you were able, despite everything, to continue and do the entire course with the group. We hope that this experience will remain for you and your 2 children a pleasant moment.
- Excellent
Written by Nicolas Ponti, on 20-04-2022
We did an initiation with my boys and their 8 and 10 year old cousin. They were delighted! The instructors are very nice and educational, they make you feel confident. Bravo, I recommend it.
- My grandsons loved it. Great experience but a little expensive
Written by Jasmine ROYER, 16-04-2022
I recommend The main instructor is really experienced and great. The others need to be more confident
- Excellent
Written by Nicolas Ponti, 01-04-2022
The two leaders were very welcoming and educational. The children loved this walk. I recommend it.
- Nice but expensive!
Written by elodie Laloum, on 15-03-2022
Very nice it makes the thighs But the ride is worth the price of the thing ?
- Great experience to do in Paris
Written by Nathalie CHARTIER, on 12-02-2022
Very original and unusual activity to do with teenagers in Paris. Small part in the city, then stroll on the quays of the Seine. Quick handling of the device. Great welcome and Jerry was a great guide, very smiling, listening and taking care of the youngest. Great moment. To recommend warmly
- Very nice experience
Written by frederic gavard, on 10-02-2022
I recommend It is very nice and the person who accompanied us was considerate and benevolent So thanks to Mohammed for introducing us to this Fred
- The monitor is nice and the ride is expensive
Written by Véronique Lacroix, on 20-01-2022
Nice but expensive
- EXTRAORDINARY WALK
Written by Anne BELIARD, on 12-11-2021
Great walk on the docks. Our guide was great! I highly recommend him: his name is Yassin!
- No hesitation ????
Written by RENAUD LAMY, on 08-11-2021
Everything was managed perfectly.
- Great... my little girl loved it.
Written by Francoise BRAUN, 06-11-2021
Very good supervision and very nice animators. If the weather had been better, I would have taken my second little girl the following week. I recommend this activity without any problem.
- Great experience
Written by Nathalie GARAVAGNO, on 04-11-2021
Super nice animator, very attentive to safety and listening to everyone. Very good welcome. Highly recommend
- Great surprise for my kids
Written by Natyuliz Lazarde, on 02-11-2021
I recommend 100%! Quality, service, materials.
- Nice for young people!
Written by Marion Angoy, 31-10-2021
My 12 year old daughter was very happy. Very nice animator. 1st part training then on the quays of the Seine. It's worth it to try with a trainer like that.
- Good afternoon with a serious team
Written by David Barrigah, on 21-10-2021
The supervision, the availability of the instructors and the punctuality I would recommend this activity
- Great time.
Written by pascale, on 06-09-2021
A lot of patience from the organizers to initiate us. Super walk, a lot of benevolence. The girls loved it. Thank you
- Great! To be redone
Written by Nathalie Serouart, on 03-09-2021
A young and dynamic team My 14 year old son was supposed to participate with a group of nine people he didn't know but had to cancel at the last minute Normally they have to cancel and well they still maintained the walk since we had waited for their arrival so he did a tour with an instructor in training and another animator Pretty cool, huh? He loved it, he wants to go back as soon as possible Go ahead, you won't regret it!
- Great family outing
Written by Lili Api, on 22-08-2021
Great family outing. The animator was great and very patient! The walk on the quays of the Seine was really pleasant. I highly recommend!!!
- It's not bad
Written by yuewei Zhang, on 20-08-2021
Yes
- I love it
Written by m.o, on 09-08-2021
Great family experience, the instructors were very nice and available. The only drawback was the route taken, half of it was under a tunnel...
- Great
Written by Stephane Sinet, on 04-08-2021
We had a great time with my son. I highly recommend it, if like us, you had never done it before. The instructors are very good at giving advice.
- Very nice
Written by Un week-end à Paris, on 01-08-2021
It's a bit expensive but for once it's worth it.
- Very nice family activity. The children were more comfortable than the parents...but we all enjoyed it! The animator, very nice.
Written by Sabine, on 20-07-2021
Yes, I recommend!
- A young and dynamic team anxious to give participants a good time. Patience and vigilance for a nice ride in complete safety and some sensations
Written by Mélanie DA COSTA, on 12-07-2021
No difficulty to reserve, wait a little too long before leaving because of a late person.
- An original journey through Paris
Written by Mathieu, on 07-07-2021
Discreet guide, but good initiation. Equipment not very efficient because 2 hover boards out of 3 broke down (no battery) Itinerary in the tunnel not very interesting. Nice ride in the whole.
- Very good walk
Written by N.GU, on 30-06-2021
A birthday present for my 10 years old son. Son and dad loved the outing, a real adventure in the center of Paris...
- well-framed activity
Written by Philippe BOUVET, on 14-06-2021
well-framed activity
- Activity for teens and adults not children
Written by Claire Sauvalle, on 23-03-2021
Very synaptic animator but what diploma does he have? Not enough supervision if we were more than 3. Not enough hygiene, damaged protections Amateurish and unprofessional activity Very nice walk on the quays but crossing the boulevard to reach them is very dangerous because of the traffic, the bikes, the pedestrians. Activity to make the Latin because less world
- It was good but hard! ?
Written by Anne B., on 08-03-2021
The kids loved it, that's the main thing. Easier for them than for us (old people over 45 years old) to apprehend the Hoverboard, I think. We had no chance, we were mixed with a group of the city of Paris and they were very very numerous! As a result, our leaders were entirely dedicated to managing the herd (and they had to be, for obvious safety reasons) and we may not have had all the help or advice we could get. They were very kind as they offered us to try again another day, outside of the school vacations. A great team, very attentive, even when they are overwhelmed. And a REAL adventure, a must try. Not as simple as it seems but very funny.
- Excellent
Written by Eli, on 25-02-2021
Ideal activity to take air, to have sensations and to have fun!
- Insufficient care for 14 people, more than half of whom were children with an accompanying person.
Written by Bernadette CHARBONNIER, on 22-02-2021
Batteries insufficiently charged which did not hold the walk .... protection equipment whose packages disordered; Accompanist slightly overwhelmed!! but did what he could to satisfy us; two adults who followed brought their help!!! fortunately; a lot of traffic too.
- Good but beware of the final price
Written by Laurent Petter, on 02-02-2021
Activity was consistent. My 8 year old son liked it. On the other hand, I was surprised by the total cost to pay in the end. This one is not explicit on the website to make the order. There is an important addition to pay in store...
- Good service but not in relation with the price
Written by marc MEYER, on 16-11-2020
start on a Parisian avenue which doesn't seem to me to be ideal especially for beginners no particular difficulties, good reception starting point to be modified to be recommended
- a great experience!
Written by morel , on 31-10-2020
to be recommended : very well organized
- Original experience
Written by Laurence Martin, 24-10-2020
Great experience for the kids and I on a beautiful sunny day on the quays of the Seine with a patient and friendly guide and we were only 3! I had no confirmation email from famillinparis and I didn't even know if my reservation had been taken into account and it was Insolites Collection who informed me. I would therefore book directly with them if I had to repeat the experience.
- Great!
Written by Emilie Veyrun, on 15-10-2020
Great moment mother-son, with Tony, a golden guide ???? To learn, to ride or to have fun with friends, it's worth it! The Hoverboard is at the top of the Christmas gift list ???? Thanks insoliteParis! ????
- Great
Written by Carine LACROIX, on 22-09-2020
No difficulty to book and no surprises on the day of the service. Very pleasant walk on the docks and attentive supervision. Very good moment in family!
- A great time
Written by Elisabeth DUBOC, on 25-08-2020
This unusual ride was a great pleasure for my 2 little sons, their guide Steeve is extremely friendly. The security is respected, protections and yellow vests. They were only 3 children already "warned" knowing how to practice the hoverboard, they had the right to a longer ride because they did not need an initiation. It was a good time for them, and I left them in complete confidence. I recommend this activity and will look into the other proposals for the next time. A big thank you to the team
- too good
Written by Maja Broque, 21-07-2020
very nice people
- great activity
Written by anne v, 29-06-2020
plus : original and adapted to teenagers minus : too short a ride for the time spent yes I recommend for a nice mixed activity for teenagers
- Nice day!
Written by davy , on 24-03-2020
Super nice despite a rainy day. The guide was great with my niece. I recommend...
- To do with the family
Written by virginie druet, on 14-02-2020
It's the only organization that proposes to teenagers under 14 years old. We appreciated the kindness and availability of Tony and Medhi who are really very professional and serious. You don't have to be afraid to participate because thanks to our 2 animators we found it feasible. I recommend
- Super nice
Written by Solange V., on 17-01-2020
My two boys, 12 and 9 years old, loved it. Very well organized. Good explanations and safety.
- very playful activity for young children
Written by COLETTE KERJEAN, on 12-11-2019
I found the start a little long but then everything was perfect and of course I could recommend this activity to other parents because the children love it
- Great moment
Written by Mounia Hernandez on 07-11-2019
Thanks to Brahiman for his welcome and kindness. He is great with children. The walk on the quays of the Seine is a very good idea.
- Top
Written by Caroline Dourel, on 04-11-2019
Excellent time with excellent guide. I recommend
- Nice guide but lack of knowledge about Paris
Written by Nicolas, on 03-11-2019
We had the luxury of being very few in number, the guide took the time to explain to us how the hoverboard works and he was attentive during the course, especially on our safety. Very nice! Small disappointment because the guide knew absolutely nothing about Paris, he could not inform us at all about the name of the buildings or the bridges. I would have expected a tour coupled with tourist explanations.
- Seduction activity for teens
Written by Catherine Damay, on 01-11-2019
guaranteed success with our teenagers. But did they see Paris? Let's just say that they did, including the Saturday crowds. We recommend a less busy day if possible. The animator was very professional and pleasant.
- Very good
Written by Claudine ROBIC ASSIE, on 31-10-2019
Your site had not transmitted my reservation to the provider !!!! Not very serious on your part ....
- super activity
Written by nadine dodet, on 15-09-2019
Protective equipment provided - preparation and activity much appreciated by the children who participated
- Life!!!
Written by Founé KEITA , 06-09-2019
Congratulations to Cloe and Dado, for their professionalism, their smile, their kindness and their patience... Good choice of itinerary, we cover Paris and its architecture in another way! We feel really good and free. A fun activity for both adults and children (at least 40, I think). I highly recommend and encourage this team to continue to thrill the little city rats that we are! Thank you
- Nice
Written by Syl de Mars on 06-09-2019
The weather was gray and it was the month of August, then inevitably we had right to a privileged ballade, because we were only two! We appreciated it very much, as well as the kindness of our guide... Not at ease in overboard I could make the ballade in electric scooter, and this flexibility is a plus. I recommend it for young and old.
- Great time!
Written by Pascal BOURGOUIN, on 29-08-2019
Great welcome from the provider. Especially since we were only my son and me. I was afraid of a cancellation but they were very careful with us. Little apprehension at the beginning but my grip (in foot!) is easily done. Very playful... but my legs were a bit stiff after an hour. Nice ride on the edge of the stage (Paris beach area) with a passage in a totally deserted area to have fun taking speed. A really good experience that I don't regret...
- Great experience
Written by Bertrand Viry, on 21-08-2019
Everything was great, enjoyable. The guide was super attentive to everyone. The only problem was to find the starting point (not well indicated)
- 1st Hoverboard exp
Written by Roger Le Dudal, on 13-08-2019
Nice service, very present and pedagogical To do again with pleasure
- to do again with pleasure
Written by Erik on 07-08-2019
A first experience in overboard. Appointment in front of the store which does not pay mine (but in full move). Our hostess, a bit reserved at the beginning, explains us the machine and the protections. Small group of about ten people. 1 minute walk from a place sheltered from cars: ignition, boarding and ... forward. Our hostess relaxes and will be of a boundless sympathy during all the walk. A beautiful ballad in edge of the Seine, neither too long nor too short. We wait for the latecomers less at ease, we meet again at precise points? An excellent first experience, to recommend certainly...
- What a great experience
Written by Patrick BASSINOT, on 06-08-2019
Very good supervision because I had never done it before. After a few learning exercises in a safe place, we went to the edge of the docks. A great excursion with the family with very good memories. Still too short. I really recommend this original activity which offers another way to approach the quays of the Seine.
- Very nice!
Written by Alyssia de GERLACHE, on 06-08-2019
I had already done some but the walk along the docks is great. We learned in a group but afterwards I was able to do it alone at my ease. I had a very good time and I keep a very good memory of it!
- Lack of professionalism
Written by S. G. on 04-08-2019
The course for the handling of the hoverboard is effective, the advice is good to quickly get by with the hoverboard. What I didn't like is that one of our hoverboards ran out of battery at the beginning of the ride, that we waited quite a long time for it to be replaced, the ride was not extended to compensate for the waiting time nor was any commercial gesture proposed. One part of the walk is nice along the Seine, the other part in a tunnel. Despite these disappointments, it is a nice discovery. However, considering the price of the service, one can expect a better quality of service.
- Great activity for a 13 year old, he wants more!
Written by Therese , on 23-07-2019
Great activity for a 13 year old, he wants more!
-
Written by Florence QUERBEL , on 21-07-2019
It was great, very good learning at the beginning. I was on my own but that was more of a plus. I was in VIP mode. Great experience to do
-
Written by Florence QUERBEL , on 21-07-2019
It was great, very good learning at the beginning. I was on my own but that was more of a plus. I was in VIP mode. Great experience to do
- I highly recommend it!
Written by Samia, on 12-07-2019
Nice experience. Nice moment of sharing with the children. I recommend
- activity very appreciated by 13&14 years old girls
Written by marie-sophie suty, on 12-07-2019
good activity but a bit expensive
- Great activity and very nice team
Written by Jessica CECCONI, on 11-07-2019
I recommend this activity even to the most fearful. To be done in family or group. The instructor is top notch and takes into account the apprehensions of each person without judging, with a lot of kindness. Without forgetting the boss who is very attentive and very present with his clients.
- Stars in the Eyes
Written by LaurentG., on 11-07-2019
My 2 teenagers (12 and 15) were happy. Great concept. I recommend Nice welcome, good care, protection available. You are a beginner and/or anxious, no problem we will take care of you.
- Gift certificate for a teenager's birthday
Written by Jocelyne Lemaire, on 18-06-2019
The instructor didn't speak English (3 little American girls) and one of the 3 hover boards broke down!
- exciting experience for our 2 young people of 14 and 9 years old!
Written by Nicole AMIOT, on 01-05-2019
This success is due in large part to the qualities of the instructor: patience, tenacity, sense of pedagogy, good humor...
- My son and his friends had a great time
Written by Valérie Doumergue, on 01-04-2019
My son invited his friends for a walk on the quays of the Seine. First of all, we enjoyed an excellent welcome, both behind the counter and during the preparation. Then the stroll went very well, I will not hesitate again to leave my children in such good hands.
- My son and I loved it!
Written by Alexandra Ravut, on 19-03-2019
Very good reception and beautiful walk along the docks, a very very good time!
- Grave well
Written by Delphine Berdugo, on 05-03-2019
Well supervised. Nice instructors! Groups of levels that allow everyone to progress at their own speed. Too short in time. I recommend+++.
- An original way to discover Paris with your family
Written by Anne Lambert, on 24-02-2019
Yes
- Confidence assured after 20 minutes of great fear during the initiation
Written by natacha Hamouma, on 28-01-2019
I already recommended this activity because it's really fun... the hoverboard being heavy, you have to think that not everyone can carry... the animator carried mine, my son's was carried by my husband... but he was carrying his too... fortunately he's strong!
- POSITIVE
Written by Dominique MIOT, on 23-01-2019
It was my niece who tried it and she was thrilled! A little disappointed, however, that she did not receive the promised photo.
- I validate...
Written by Sonia ALBIGES DRACON, on 04-01-2019
Friendly team, good welcome... My 16 year old son and his 11 year old younger brother took part in the ride and enjoyed it. My younger brother keeps asking me to go back... We will definitely do it. A very pleasant walk with family and friends, I recommend it. It's a great activity to do.
Our latest articles