WE love
: un must pour les fêtes de fin d'année – Du grand spectacle
Age:
for teens
DATe:
Du 29 novembre au 29 décembre
Location:
Boulogne Billancourt (92)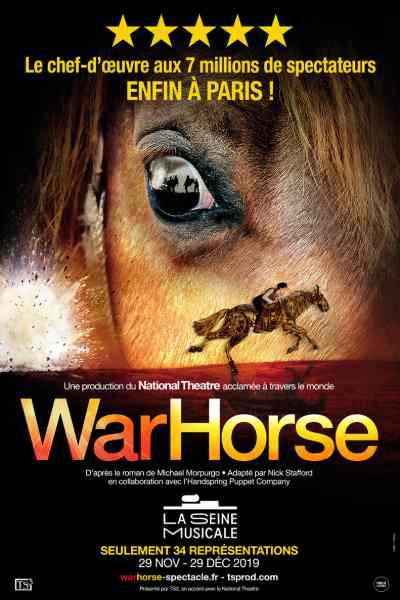 War Horse : spectacle évènement, lauréat de nombreux prix internationaux
Warhorse, inspiré du best-seller de Michael Morpurgo, retrace l?histoire touchante du jeune Albert et de son cheval Joey, sur fond de Première Guerre mondiale.
War Horse a été adapté en comédie musicale en 2007 par Marianne Elliott et Tom Morris, avec des marionnettes de la Handspring Puppet Company et a depuis été récompensé par les plus grands prix internationaux.
On stage, 34 comédiens et chanteurs…
et des marionnettistes stupéfiants qui donnent vie à des chevaux plus vrais que nature.
Ce qui rend incroyable ce grand spectacle, c'est l'absence de vrais chevaux remplacés par 34 marionnettes extraordinaires de vie et de réalité.
A great historical and musical fresco.
The show is in the original English version and surtitled in French.