WE love
A very lively exhibition on a great lady of the 20th century, worthy of a novel heroine
Age:
from 10 years old (free visit) - Workshops from 4 years old
Duration:
until August 25, 2019
Location:
Museum of Jewish Art and History (Paris 3rd)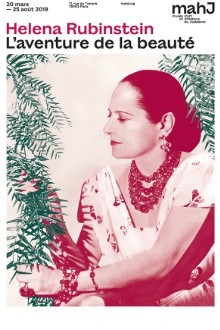 The exhibition on Helena Rubinstein, a life worthy of a film heroine
The exhibition presents an exceptional woman, a rebel who came from a poor Polish Jewish family and single-handedly founded a global cosmetics empire, an industry and a culture of beauty
The exhibition is fascinating because Helena Rubinstein is unique and fascinating. She was a pioneer in every field, an exceptional businesswoman and a great collector.
Through the journey of Helena Rubinstein, it is a large part of the XXth century which is retraced in this exhibition. It is a geographical (she lived in Europe, Australia and the United States) and chronological (1870-1965) journey
A great collector, Helena Rubinstein met the great artists of the 20th century (painters, sculptors, architects, fashion designers...). The exhibition presents objects, clothes, photos, engravings, books, paintings, sculptures, tapestries from her famous personal collection and retraces the career of the woman who Jean Cocteau called her "the empress of beauty".
An exhibition adapted to children from 10 years old (in free visit) and from 4 years old with the visits workshops:
This exhibition is an opportunity for children to discover an exceptional and romantic life story and through it, the great historical and artistic moments of the 20th century. The photos and documents are fascinating and very accessible to the young public.
The Museum of Jewish Art and History offers a few tours especially for children:
VISIT - WORKSHOP: Tales told, stories embroidered :
A family tour of the exhibition. Young and old discover the atmosphere of a tailor's workshop, before going in search of gold embroidery, silky fabrics and precious materials in the exhibition. Each family then composes a textile story using various materials. Sew, glue and draw your life!
for children from 5 years old and accompanied by adults
Price : 9 ? per workshop
Sunday, April 7, 2019, 10: 30-13: 00
CHILDREN'S WORKSHOP: Mrs. Rubinstein's beauty salon :
In the manner of Helena Rubinstein, the children make up a face in front of the camera using an animation technique.
for children from 4 TO 7 years old
8 children maximum
Tuesday, April 23 and Tuesday, July 9 at 2 p.m.
Duration 2 hours
Price : 9 ? per workshop