WE love : shopping and free entertainment
Free:  Free entry for all
When:  May 1, 2019
Location:   at the Saint-Cloud racecourse
Age :   from 3 years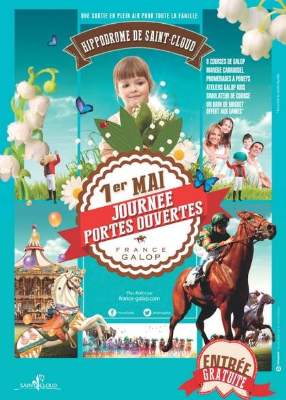 Races and free animations with France Galop on May 1st
The racecourse of Saint-Cloud is transformed into an adventure park on May 1st. On the program, from 12h:
Attend 9 horse races
Pony rides, carousel carousel or giant inflatable structure
Challenge your friends with bag and Ponycycle races, new animation 2019
Get in the shoes of a jockey the time of a race while learning to ride with mechanical horses
Finally, a bit of lily of the valley will be offered to women on the racecourse!
And it's free for all …
You can bring your picnic, areas are arranged for the lunch break.