- Exhibition at the Orangery Museum -
WE love : the opportunity to see painters rarely exhibited in France, major figures of German Expressionism
Age : for all, from 7 years free visit
Duration: until June 17, 2019
Location: Orangerie Museum (Paris 8th)
Nocturne free March 28th from 19h30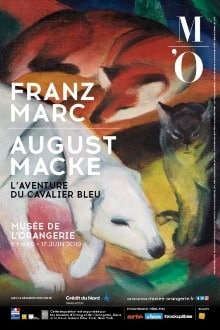 The Franz Marc / August Macke Exhibition - The Blue Rider Adventure: An Explosion of Colours
The exhibition presents two major figures of German Expressionism and the Der Blaue Reiter movement [The Blue Rider], Franz Marc (1880-1916) and August Macke (1887-1914).
Inspired by post-impressionists such as Cézanne and Van Gogh, and by Fauvism, Franz Marc and August Macke were able to create their own aesthetics with the Blaue Reiter movement.
Alongside Kandinsky, they manage to express their deep emotions through fascinating paintings, with bright colors.
Mobilized in August 1914, they both died at the front
The adventure of the Blue Rider, the exhibition adapted to children
This exhibition is perfectly adapted to children from 7 years old (open to the public) and from 5 years with the visit-workshop. It is an opportunity for them to discover Expressionism. German. The very colourful works of the two artists (Franz Mark and August Macke) are very accessible to the young audience. The performances are not realistic, the horse is blue, the sheep are green... It's an intriguing universe that will appeal to the younger ones. The Orangery Museum offers especially for children :

THE VISIT - WORKSHOP: Horsemen of Expressionism
Family visit of the exhibition with a guide who is available to children, then in the workshop, parents and children use drawing and painting to ride through shapes and forms and colours, between figuration and abstraction.
for children from 5 to 12 years old
Duration: 2h
Price: 8 € the workshop
At 15h on the following dates:

Wednesday, March 13
Wednesday, March 27
Saturday, March 30
Sunday April 7th
Saturday, April 13
Wednesday April 17th
Wednesday, April 24
Thursday, April 25
Saturday, May 11
Wednesday 22 May
Sunday, May 26
Saturday, June 1
Wednesday, June 12