WE love
: a great medieval show at the castle of Vincenes
Age:
for everyone
When:
Saturdays, December 7, 14 and 21
Location:
Castle of Vincennes (94)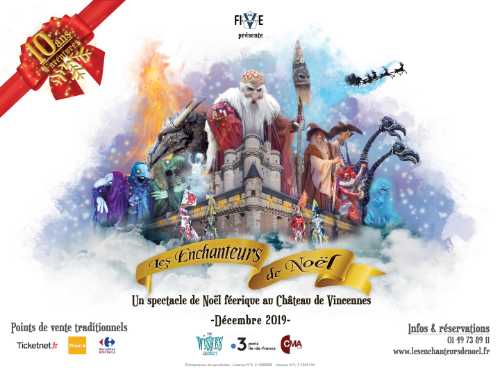 Les Enchanteurs de Noël: the great end-of-year show at the Château de Vincennes
For the past 10 years, the first 3 Saturdays of December, the Christmas Enchanters present a great medieval, fantastic and fairy tale show for young and old at Vincennes castle.
It is aboutan epic Christmas taleA great medieval show mixing magic, great illusions, chivalry, aerial performances ... All tinged with poetry and spectacular effects.
The enchanters of Christmas at the Château de Vincennes, it's a welcome parade, then stilt walkers, jugglers, knights, fire-eaters, percussionists, magicians, troubadours and many other fantastic characters...
About forty artists are gathered for this great Christmas show.
A 1 hour show.
5 performances Saturday, December 7 and 14 at 8:00 p.m. and Saturday, December 21 at 3:00, 5:00 and 8:00 p.m.